Romantic Getaway at the Grove Park Inn
Sneak away to an idyllic location in Asheville with a variety of amenities, activities and restaurants.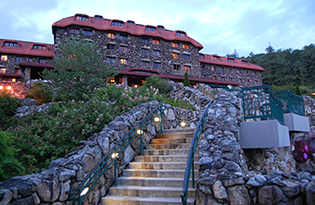 As a young girl growing up in North Carolina, I visited the Asheville area many times and was always amazed at the beauty of the Biltmore House and the surrounding mountain views. However, there was one grand structure that I never had the opportunity to visit … the Grove Park Inn.
So, when my husband and I decided to embark on a romantic getaway, we chose the Grove Park Inn as our destination. It is situated in an idyllic location in Asheville and offers a variety of amenities, activities and restaurants.
---
Warm Welcome
Upon arrival at the Grove Park Inn, my husband and I were overwhelmed by the beauty of the historic building that stood before us. It is a massive structure made of the most beautiful stone that somehow seems so warm and inviting. Not only did the hotel make us feel welcome, but also the hotel staff. They attended to our luggage and vehicle and had us on our way to the room in no time.
Before heading to our room, which was located in a newer wing, we spent a bit of time wandering around the lobby to admire its many unique features. The inviting feel of the exterior is matched by the warmth and charm of the interior lobby. There are two grand fireplaces made of stone at each end of the room, enormous windows that overlook the beauty of the Blue Ridge Mountains and a piano bar.
---
Accommodations and Amenities
Although our room was not in the historic building, it was attractive and well-equipped with all the conveniences expected from a fine resort. The best part of the room, located in the Sammons wing, was the spectacular view of the mountains.
We spent our two days enjoying the amenities on site at the Grove Park Inn which include indoor tennis, racquetball, hiking, golf and a nicely outfitted fitness center. With such active days, we decided to wind down with a trip to the spa one evening. The Spa on site is the most amazing facility of its kind that I have ever visited. The 43,000-square-foot spa feels like an underground grotto and features rock walls, arches, tunnels and 20 water features.
In addition to all the activities, there are several incredible dining options available on site ranging from casual dining to fine dining. Overall, the experience at the Grove Park Inn was phenomenal. The historic building is like a living museum and the additional buildings add the conveniences and amenities that one seeks when staying in a first-class resort. It is the perfect location for a couple's retreat or a place to relax with the family. The resort offers supervised children's activity packages for ages 5-12 and in-room babysitting is available.