Revolution Pizza – Family Dining Review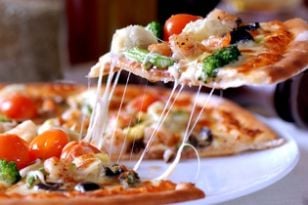 Revolution Pizza is drawing crowds for its food and comfortable, festive atmosphere. Located in a large yellow house on the corner of 36th and North Davidson streets, it stands tall among the locally owned galleries, shops and music venues in the NoDa neighborhood. The eatery has a wraparound porch for outdoor seating, and three separate rooms with arts-and-crafts style décor fitting the house motif.
While the bar area is at the front of house and adults may first notice the long line of microbrews on tap, children likely will be drawn to the gleaming gelato case. Yes, homemade gelato — that creamy, buttery frozen treat parents and kids alike know is worth saving room for after the meal!
We started our dinner with mussels, and the Mediterranean spread and flat bread. Both were good, with the spread being something kids can enjoy while Mom and Dad dig into the rich, garlicky mussels. No specialty pizzas highlight the menu, but there is a long list of artisan ingredients, different cheeses and finishing oils that allow you to create a pie as extraordinary or simple as you choose. We opted for a red pie with house-made Italian sausage, fresh mushrooms and onion. The red sauce is sweet, but not too sweet, and the hand-tossed crust has a nice crispy, chewy balance. On previous nights, we've chosen the Sweet and Savory Grilled Pizza, with melted gorgonzola cheese and date marmalade — a definite melt-in-your-mouth treat. Rounding out the menu are two handmade pasta dishes, a sandwich list, salads, "antipizza" platters and a children's menu. Children's entrees ($4) includes pepperoni, sausage or cheese pizza; chicken tenders; and pasta with butter or red sauce.
And then it's time for the gelato. Flavors include chocolate, pistachio, caramel-cappuccino, strawberry-lemonade and vanilla-straticelli. Chances are, the kids will have their flavor picked out before their first slice of pizza is served. Have a scoop or take a pint home.
— Michele Huggins
The Chow Down
Revolution Pizza and Ale House, 3228 N. Davidson St.
Dollar Deal: $7-$12; large pizzas start at $16 with toppings ranging $1-$3 for a large
Décor/Atmosphere: Casual, comfortable
Kids' Menu: $4
Amenities: High chairs and booster seats
Got Milk/Juice: Yes, including chocolate and strawberry milk
Phone: 704-333-4440
Web Site: www.revolutionpizza.com