Recipe: Jumbo Lump Crab Cakes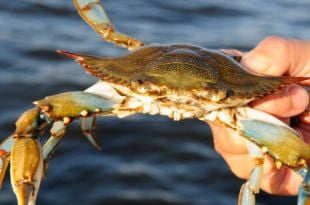 Victoria Hooker's Jumbo Lump Crab Cakes
Yield: 8 each, 2-oz. crab cakes
1/2 pound Jumbo lump crabmeat, shells removed
2 Tbsp Onion, diced fine
2 Tbsp Red bell pepper, diced fine
2 Tbsp Green bell pepper, diced fine
2 Tbsp Celery, diced fine
4 oz Cream cheese, softened
2 Tbsp Mayonnaise
2 Tbsp Sour cream
4 oz Butter
4 oz Panko bread crumbs
1 Tbsp Seasoned salt
1. In a large sauté pan, melt 4 ounces butter. Add the panko bread crumbs and seasoned salt. Toast, stirring constantly, until golden brown. Pour toasted bread crumbs into a large bowl. Set aside to cool.
2. In a separate bowl, combine the cream cheese, mayonnaise and sour cream. Mix until well blended. Add the vegetables. Mix well.
3. Pour three-fourths (3/4) of the toasted bread crumbs into the vegetable mix. Mix well.
4. Add jumbo lump crabmeat. Carefully fold into the vegetable mix until crabmeat is spread evenly throughout the mixture, being careful not to tear the crabmeat.
5. Form crab cakes into 2-ounce patties. Gently coat them in remaining toasted bread crumbs. Set aside.
6. In a sauté pan, melt some additional butter and lightly brown crab cakes on both sides.
7. Serve hot with fresh cranberry relish. See recipe below.
Fresh Cranberry Relish
1-16 oz bag Fresh cranberries
1 Tbsp Orange zest
1 cup Sugar
½ cupOrange juice, freshly squeezed
1. Combine all ingredients in a medium sauce pan.
2. Cook on medium-low heat, stirring frequently, until cranberries begin to pop.
3. Remove from heat. Cool down.
4. Serve cool.
Chef Victoria Hooker is an adjunct instructor who teaches Fundamentals of Classical Cooking, American Regional Cuisine, Dimensions of Culinary Education, Career Preparation, and Food and Beverage Operations Management. She grew up in a traditional Me