Reality Check: Robin Marshall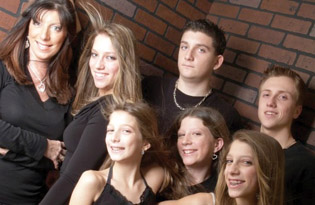 Take a peek inside the life of mom Robin Marshall and get a glimpse of everyday parenting — from the madness to the mess-ups!
Vital Stats
On-air personality for K104.7 and author of the book "Is This Thing ON,"  a collaboration of 165 on-air people and their worst on-air moments. Proceeds from the book benefit Make a Wish Foundation.
Family Tree
Four daughters and one son, including Cassidy, 13; Brandy, 15; Lacey, 18; Dylan, 19; and Wren, 22. Plus a black lab named Toby and a pure-bred Volpino, that "drives us all a little insane."
Get Real
The question of the day is not, "Mom, what's for dinner?" It's, "Mom, are we doing anything for dinner?" They've all learned to do their own laundry, and have learned that there will never be an iron in our house. In fact, one child just recently asked me what one was. There are no chores that are divided, they all must get them done.
Parenting Rule #1
My kids are not allowed to bring their cell phones to the table – ever! Also my daughters not allowed to date a boy unless he has a sister. Those boys know the difference. If for some reason, they find a boy that does not have a sister, I must meet his mother. If she's a strong lady, he's in.
Fave Phrase
"Try one new thing every day." They are also taught to think outside the box at all times.
Spill It
I have forgotten my children on many different occasions. When you have five kids, in 11 years, it's exhausting.
Top Tip
Always say what you mean, and mean what you say. Don't give mixed messages, and encourage your kids to tell you if ever they're being bullied in person or via cyber-bullying. We must stand up to bullies, and that means as parents we also must help.