Reality Check: Patrick Cannon
Take a peek inside the life of local dad and Charlotte Mayor Pro Tem Patrick Cannon.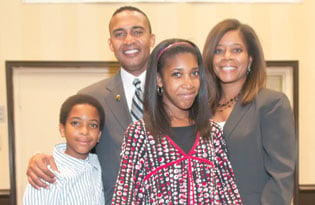 Take a peek inside the life of local dad Patrick Cannon and get a glimpse of everyday parenting — from the madness to the mess-ups!
Vital Stats:
Mayor Pro Tem Patrick Cannon, 44
Charlotte Mayor Pro Tem, councilman at-large, and chief executive officer and founder of E-Z Parking Inc., a parking management, design and consulting firm.
Family Tree:
Married to Trenna, and dad to daughter Brittany, 13, and Patrick, 10. The family has a pet Cocker spaniel Sebastien and lives in Ballantyne.
Get Real:
Between football, basketball and volleyball techniques practiced in the home, the Wii, and a quiet area in the home where we come together and occasionally watch a movie, it's a balance of comfortable chaos with most things in place, but with a few out of place.
Don't You Dare!
There's no trying to play one parent off the other. I'm not getting set-up by the kids for a cross-eyed look from the Mrs. for allowing something that she has already laid down the law.
Parenting Rule #1
There is never room to be disrespectful to anybody, and always perform some level of community service to help someone in need or be a part of a cause.
Fave Phrase
"Please close the door!" This would be the door where the Wii volume exceeds the city's decibel ordinance. Just kidding on exceeding the decibel level, but you get the idea that it can get too loud to hear other things in the vicinity.
Spill It
When my son was much younger (5 or 6) he had this thing about his hands always being clean and fresh (and still does). One day while at work with me, I introduced Patrick to a business associate; the gentleman extended his hand to my son and shook it. Upon the hands being released, and with the man still looking on at him, and him at the man, my son smelled his hands to determine if his hands were still fresh and clean. Just the other day Patrick told me that one of his favorite quotes is "Cleanliness is next to Godliness."
Top Tip
Find a way to strike the balance of allowing your children to be exposed to different things and people, but not over exposed. A sheltered child can experience a rude awakening to the real world, and an overly exposed child can grow up too fast. It can be very hard to strike the balance, but it is so important as parents that we try.