Reality Check: Muhsin "Moose" Muhammad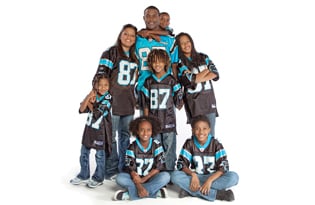 Take a peek inside the life of dad Muhsin "Moose" Muhammad and get a glimpse of everyday parenting – from the madness to the mess-ups!
Vital Stats: Muhsin "Moose" Muhammad
Retired NFL athlete turned businessman, who holds the longest touchdown reception in Superbowl history and has won an Emmy for his TV show "Hangin With Moose."
Family Tree:
Married to Christa and father to daughters Jordan, 14; Raven, 14; Chase, 13; Journey, 12; and Kennedy, 7; and sons Muhsin III, 10; and Maddon, 8.
Get Real:
With seven kids, my home is always busy, never a dull moment! I would call it "controlled," comfortable chaos.
"Don't You Dare":
I have great kids and they are well behaved. I think the noise gets out of hand sometimes.
Parenting Rule #1:
Be respectful and always give everything your full effort.
Fave Phrase:
"Don't complain, don't explain, find solutions."
Spill It:
When my first child was born, my wife was very protective. The first time my daughter rode in the car with me, I got in an accident. Luckily it was only a fender-bender, but I will never live that one down.
Top Tip:
I believe in tough love and keeping Jesus as the head of my household. I always refer to the Bible when I need answers. It's truly the best book I've ever read.