Reality Check: Marlon Smith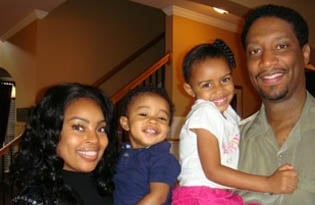 Take a peek inside the life of local dad Marlon Smith and get a glimpse of everyday parenting — from the madness to the mess-ups!
Vital Stats: Marlon Smith, 43
Leadership consultant/motivational keynote speaker, who has given presentations in 45 states and 14 countries, as the owner of Success By Choice and Inspire Your Family.
Family Tree:
Married to Syreeta and father to Jade, 4, and Cory, 1. The family lives in south Charlotte.
Get Real:
Our home is comfortable chaos! With two business owners being married and raising two young children under the same roof, life can sometimes get real busy, feeling like you're keeping up with a never-ending tornado of responsibilities, commitments and activities.
"Don't You Dare":
Jade is 4 going on 24. She is so bright that she attempts to out-wit her Mom and me from time to time. I understand that children are children and that we, as parents, have a blessed opportunity to instill values within them, teaching them lessons when they make mistakes. However, the only thing that truly pushes my buttons is when there is some degree of disrespect.
Parenting Rule #1:
I do not tolerate disrespect!
Fave Phrase:
"What did I say?" … I find myself saying the exact same thing my parents did.
Top Tip:
One thing that is extremely important is speaking positivity and blessings into children. Our kitchen has a "Blessings" board with one column for each family member. We are doing our best to recognize the daily blessings in our lives. When something happens that makes us feel appreciative, grateful or special, the person writes it in their column (of course, we write for Jade and Cory, but talk about it with them). Just imagine how this habit of focusing on the positive things of life will empower our children.