Reality Check: Lindsay Merritt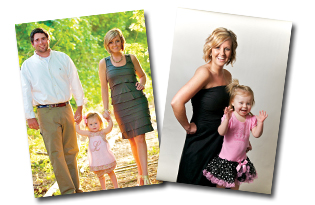 Take a peek inside the life of mom Lindsay Merritt and get a glimpse of everyday parenting — from the madness to the mess-ups!
Vital Stats: Lindsay Merritt, 27
Mrs. Southern Piedmont North Carolina and third runner up for 2011 Mrs. North Carolina United States. Merritt teaches second grade at Koontz Elementary in Salisbury. She also volunteers for Hope Cancer Ministries in Charlotte, Prevent Child Abuse Rowan and the Make a Wish Foundation, and she is a team captain for Relay for Life.
Family Tree:
Married to Andrew and mom to 2-year-old Lilly, as well as three "fur babies"— Rosco and Sammy (Shih Tzus) and Stella (a rescued lab mix). The family lives in the University City area.
Get Real:
I am more of a "comfortable chaos" person; Andrew, on the other hand, wants to be an "everything in its place" person. With a 2-year-old we have resolved to take a little bit of both. Each evening, everything is in its place, but come morning, comfortable chaos seems to take over!
Parenting Rule #1:
Lilly cannot be disrespectful. I guess you can say Andrew and I are both "old school" … Lilly has to go to time out when she says no, or refuses to do something for an adult. She has learned to say "please" when she wants something and "thank you" when someone gives it to her. … As a teacher I want her to learn this early, because I see how much of a difference it makes in my students each day.
Fave Phrase:
"It will be OK!" Like any first-time parents, we often freak out over the littlest things.
Spill It:
One morning, I was heading to work, and usually I take Lilly to her sitters in Mint Hill and hop back on the interstate for the a 40-minute commute to Salisbury. This particular morning, I was in a rush, and I got all the way up I-85 almost to Concord, when I hit a huge pothole, and above the radio I heard, "Wheeeeeee Mommy." I turned around and there was Lilly — I hadn't dropped her off. When I turned around, Lilly looked like a deer caught in headlights. I think she was trying to be quiet so she could go with me to the school.
Top Tip:
Pray daily, have time to yourself and know that no one is perfect. I remember buying all of the parenting books, listening to the advice of my mother and mother-in-law, aunts and grandmothers, and writing down everything. … Where are those books now? On the shelf somewhere. I had to learn just like every other mom that things don't always go your way, but that's OK!