Reality Check: Lily Winnail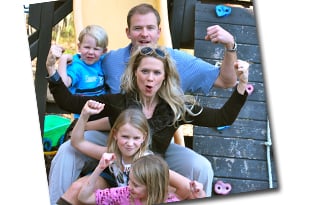 Take a peek inside the life of local mom Lily Winnail and get a glimpse of everyday parenting – from the madness to the mess-ups!
Vital Stats
Lily Winnail, 39, is owner of Padalily, winner of the 2010 Leading Moms in Business Start Up Nation and winner of the 2011 Spokesmoms Born by Moms Contest.
Family Tree
Lives in Wesley Chapel with her husband, Shaun; daughters, Annaliese, 11, and Emmaline, 8; and son, Blake, 5; plus two cats, Moose Siamese Cat and Skippy John Jones.
Parenting Rule No. 1
No talking back or arguing while I'm trying to get out what I want to say.
Don't You Dare
It drives me crazy when they argue about little things that don't matter, like who is the rightful owner of a small green marble found in the crumbs underneath the couch cushion.
Favorite Family Activity
Taking the kids for rides on my dad's old '66 Honda motorcycle. (Yes, I drive it.)
Personal Indulgence
A good glass of wine, some yummy cheese, freshly baked artisan bread, some crème brulee, all while watching the Oscars.
On Your iPod
Tonight in Babylon by Bryan Adams.
Top Tip
I've learned how important it is to be humble, say I'm sorry, and ask for forgiveness when I've made a mistake. It's good for my children to see that it's OK to admit when we're wrong and to apologize, and that we can learn and grow from our mistakes.