Reality Check: Amanda Sturner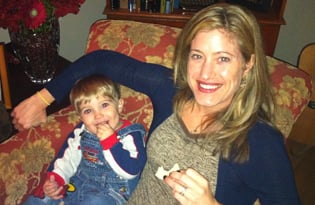 Take a peek inside the life of local mom Amanda Sturner and get a glimpse of everyday parenting — from the madness to the mess-ups!
Vital Stats:
Amanda Sturner, 38
Charlotte program director for North Carolina Outward Bound.
Family Tree
Lives in South Charlotte and is married to Dr. Harold Sturner, and mom to Joshua, 7, Luke, 21 months; and step mom to Quentin, 10, and Andy, 6.
Parenting Rule #1
Outside time. Playing outside with friends gets them physically active, engages their imaginations, and teaches good interpersonal skills.
Fave Phrase
Just put your shoes on and get out the door!
Personal Indulgence
US Weekly. I'm not proud, but there it is.
On Your iPod:
A mix of Black-Eyed Peas, U2, Christian music like Toby Mac, Florence Against the Machine, Guns N' Roses … quite the mix I guess!
Top Tip
Enjoy your kids – their quirks, humor, habits, the millions of questions they ask each day, all of it. Parenting challenges your sanity, but if you simply enjoy the company of your kids, it's such a very sweet adventure for them and you.