Protecting Kids from Social Media Gossip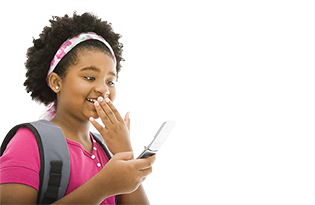 When she first heard the rumor, she couldn't believe it: Why would classmates think she, a 15-year-old sophomore, had slept with a senior boy she had just gone out with a couple of times? But tongues were wagging, and so were social media sites like ask.fm, on which she received graphic questions about the nature of her relationship.
Fortunately the people who counted most — her close friends and family — knew nothing had happened. And the rumormongers soon lost interest when they realized she wasn't perpetuating the drama with denials or counterattacks.
It could have been worse. Every day, thousands of tweens and teens are the targets of rumors, hurtful comments and bullying — an age-old problem intensified by easy access to social media sites via smartphones, tablets and computers. Social media sites and apps such as Facebook, Twitter, Snapchat and ask.fm allow rumors to spread more quickly and with more anonymity than by word-of-mouth communication.
These rumors often leave a permanent and painful record of a child's unpopularity. Sometimes, the damage is so great, bullied or harassed students even take their own lives.

Take discipline beyond school boundaries

The period when children enter middle school and have to fit in all over again — not to mention deal with raging hormones and peer pressure — is often when rumors and harassment become a problem. It's also when kids typically have freer access to cellphones, smartphones, tablets and other digital media devices. This time period calls for heightened vigilance.
"Our kids are good kids, but they were doing or saying things online that were shocking," says Jamie Brooks, principal of Community House Middle School in Charlotte. Brooks and her staff learned this the hard way after two students created fake Twitter accounts: one in the principal's name and the other in an assistant principal's name. Both accounts featured crude, inappropriate tweets and attracted many of the school's students as followers.
This incident prompted the creation of a "Teens and Technology" workshop for parents as well as a program for students to emphasize that bullying or harassment committed off-campus using private digital devices is still subject to the school's disciplinary policy. "When you threaten somebody who goes to this school on Instagram, it becomes my business," Brooks says.
Brooks is referring to the policy that Wake County, Charlotte-Mecklenburg and Guilford County school systems all have in place that permits school officials to get involved in online, off-campus harassment if it has the potential to interfere with a student's ability to learn or be safe in school.
Since most online rumor-spreading or harassment is perpetuated using personal digital devices, it behooves parents to monitor their child's phone, computer, tablet or iPod. This is easier said than done, however, as more than 200 apps allow young people to hide their text records and social media accounts from parents. Learning this shocked parents who attended a workshop put on by Brooks' younger, media-savvy teachers. So far, Brooks says, parents have responded enthusiastically to the workshops and the consensus is that fewer students are being harassed on social media sites.

Set social media limits

One way to reduce the likelihood of your child becoming an online rumor victim is to ensure that she limits Facebook friends and Twitter followers to people she knows well, and to advise her not to friend or follow anyone she doesn't know. She should also block Snapchat requests from unfamiliar user names, since this site can be an avenue for contact from predators and bullies. Younger, more vulnerable kids should steer clear of ask.fm, a site where anonymous users can post questions to any account holder's page. Often these "questions" are really statements, most of which are rude, inappropriate or downright vicious.
You can even go a step further. "If the digital environment is unhealthy, take them off," says Brenda Elliott, executive director of Student Services for Guilford County Schools. "Be sure that (social media) isn't the only way they are being affirmed as a good person," she says. "Every child should feel valued, so help them find a group or club that interests them as a way to make friends and build self-worth."
If you're dealing with an older teen, cutting the digital chord may be harder and sometimes impractical. Your teen daughter might need a cellphone in case her car breaks down or she experiences other emergencies.
Parents can and should keep communication lines open, know the names of their kids' friends and maintain a discreet online presence. For example, you can ask to friend or follow your son on Facebook, but "lurk" instead of make comments or retweet his tweets. Also know your child's login and passwords for social media accounts.

Encourage transparency and accountability

One of the best ways to reduce social-media fueled rumors and harassment is to create a zero-tolerance policy in schools and at home. For example, students at Community House Middle School and other schools that have taken the same proactive approach know their comments, tweets and other social media activities are probably being monitored by teachers and parents, so they're less likely to use inappropriate language or make hurtful remarks about another student.
School leaders can also insist that students be accountable for their actions, whether online or in person. Guilford County's Elliott says she applauds a principal in her district who recently demoted the captain of the school's varsity cheerleading squad for being mean and hurtful to another cheerleader. Her message to the student body? "Mean plus cute does not equal popular," Elliott says.
Since students who spread rumors about and harass other kids don't live in a vacuum, parents can do their part to help. "You can set an example by not gossiping or spreading rumors at home," says Crystal Reardon, WCPSS director of counseling.
Reardon advises parents who discover that their child is acting inappropriately online to act decisively, even if it means confiscating their digital devices. "The statement I always give parents is that until your children are old enough to handle the consequences of their decisions, you need to make decisions for them," she says.

Ways to Prevent and Address Social Media Harassment

• Monitor and/or set maximum privacy protections on your child's social media accounts.
• Discourage the use of sites like ask.fm, which are less about communicating than they are about titillating.
• Warn kids not to allow "friends" or "followers" they don't know.
• Explain to kids that disclosing highly personal information on social media sites could come back to bite them.
• Make sure your child knows that cyberbullying is against state law and targeting classmates — even while off-campus — can result in consequences at school.
• Encourage your child to tell you if he or she is the target of online rumors or harassment. If the perpetrator is a classmate, contact the principal or another administrator. 
Suzanne Wood is a Raleigh-based freelance writer and mother of three.
Related Links: 
> Setting Media Use Rules for Children
> Social Media Dos and Dont's When Applying to College
> 5 Steps to Bully Control
> Bully-Free Zones at Summer Camp