Pregnancy in Style With Morgan Fogarty
Fox News 10 co-anchor Morgan Fogarty waxes on maternity fashion, fitness and life.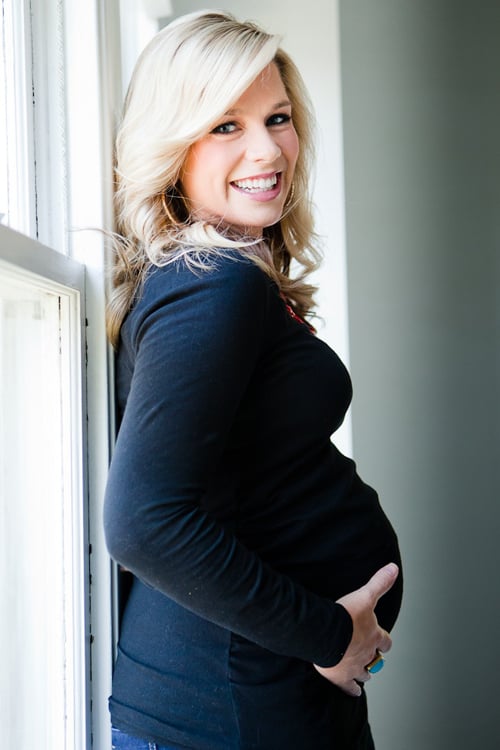 Morgan Fogarty, 31, co-anchors the Emmy-award winning Fox News @ 10 and is a mom-to-be due this month. We had a minute to sit and chat with her about how she's maintaining her panache and on-air smile through pregnancy.
Q | You look great! What's your maternity style secret?
A | Thank you! The maternity style secret that's worked for me is to try to stay true to my style pre-pregnancy, because that's what makes me feel good. I've always liked fitted clothes, solid colors, statement necklaces and high heels. I haven't strayed much from that during my pregnancy, except for the heels. I'm wearing more ballet flats these days, but I always keep a pair of heels with me.
Q | What favorite fashion accessories perk you up?
A | My favorite fashion accessories are a big statement necklace, my maternity skinny jeans and maternity Spanx! They smooth me out, offer plenty of stretch for the bump and provide amazing back support. I started getting back pain around the fifth month, and Spanx are truly the only thing that keeps the aches at bay.
Q | What is your go-to local shop for maternity clothes? Any bargains?
A | I bought an awesome fitted black dress at Pickles and Ice Cream in SouthPark. It was a little more than I wanted to spend on a maternity dress, but I've worn it so often, it was worth it. For bargains, Old Navy and Gap have been great sources for me. I knew from the beginning of my pregnancy that I didn't want to spend a fortune on clothes that I'd only wear temporarily. I found a cute black pencil skirt, black skinny pants for work and fitted tops in solid colors. I've avoided floaty, baggy clothes with prints because on my body, it just makes me look bigger.
Q | How has your fitness routine changed during your pregnancy?
A | My fitness routine has changed in the sense that I've slowed down and pay careful attention to my body during workouts. I traded the elliptical machine for long, moderately paced walks. I felt an immediate difference in my leg strength. It also does wonders for my swollen feet and ankles. If I had the time, I'd walk two or more miles every day. Realistically, I walk three times a week. I still lift weights to maintain some tone in my arms. I traded crunches for planks. I've read that maintaining core strength really helps with labor and delivery, so I've made that a priority.
Q | What makeup and beauty products could you not live without?
A | Orofluido Beauty Elixer gives my hormonally wacked out hair a smoother, polished finish. I use just a tiny dab after I blow my hair dry. It's especially great for keeping the ends shiny and healthy, and the scent is amazing. My best friend gave me some Burt's Bees "Mama Bee Belly Balm," which I use before bed on my bump. So far, no stretch marks. I also switched up body lotions. It's something I use every day after the shower, and I wanted something paraben-free during pregnancy. I found Kiss My Face Natural Ultra Moisturizer in the honey calendula scent at Earth Fare and have used it the entire pregnancy.
Q | What's your favorite pair of jeans and why?
A | Old Navy makes the Smooth Panel Skinny Jean – an awesome pair of maternity skinny jeans. They are stylish and fitted, yet so incredibly comfortable and affordable (I think I got mine for about $30).
Q | What's it like to go through pregnancy on-air, and have you noticed that Charlotte fans are closely following and commenting on your progress?
A | Given that television is obviously a very visual medium, the thought of going through pregnancy on-air made me nervous. I must say, the vast majority of comments I've gotten from viewers have been so supportive and complimentary, it's been wonderful. I did get one comment from a woman who told me I looked fat one night during the 10 p.m. news. I explained that I was six months pregnant, and she replied with something to the effect of, "I know, you still look fat." Honestly, that was so ridiculous I just laughed. I posted about it on Facebook, and viewers jumped to my defense. It's nice to know they are protective of me!
Q | What's your trick for keeping that on-camera smile when you feel rotten?
A | I didn't suffer from any morning sickness, but as I mentioned, I did start getting back pain around the fifth month. Before I discovered the magical maternity Spanx, there were several nights when my back was absolutely screaming during the newscast, and sitting in an upright position was the most painful thing. I was stretching during commercial breaks or whenever I was off-camera.
Q | How do you keep up with the frantic pace of the newsroom these days?
A | I've always been a girl who loves her sleep. Pregnancy has made it more difficult to get a good night's sleep for a variety of reasons. Sometimes I wake up at 4 a.m. for no reason. Other times, my back is hurting and I can't get comfortable. If I get a bad night's sleep, I make sure to allow myself more than enough hours the next night. In terms of work schedule, I give my job everything I've got five days a week. That means I'm really protective of my two days off. I cherish that time mostly because it's the only time I see my husband (we work opposite schedules), and also because it's 48 hours of decompression. It helps me stay balanced. As for eating healthy, I've been a vegetarian for five years. I love most vegetables and fresh fruit, so that part has been easy. But, I also love sweets and salty snacks. I just try not to go overboard. I've been careful to avoid the idea that "I'm pregnant, I can eat what I want."
Q | Finally, what tips can you offer moms-to-be to stay stylish and feel good about their changing bodies?
A | For women, feeling good about our bodies is tough even when we're not pregnant. At least, it is for me. What's worked for me during the last several months is to stay as active as I safely can. I love a good pedicure. I take naps when I'm tired. Now is not the time to try to be a superhero. I can't wait to wear 5-inch heels and belts and skirts that don't have elastic waistbands again, but I know that my swollen feet and ankles, aching back and expanding waistline are all for an incredible reason. I am so lucky to be able to experience pregnancy; any temporary discomfort pales in comparison.