Power Move: Picture Perfect Bicycles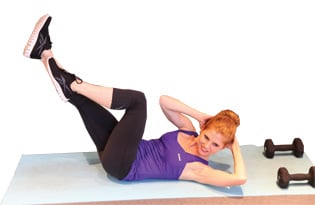 Strengthen abs and sculpt away love handles!
How: Lie on your back with hands behind your head, pull your knees into your chest and lift your shoulders up off the floor. Slowly extend one leg out, rotate your torso to the opposite leg. After you rotate, think of lifting up even higher and holding for a few seconds. Repeat on the other side. Repeat 20 times (10 on each side). Goal: Build duration and repetitions. Challenge:  Lift your shoulders even higher off the floor, and lower the extended leg closer to the floor.
Source: Sara Haley, Celebrity fitness expert and brand new mommy. www.sarahaley.com.