Playgrounds in Charlotte: Olde Providence Park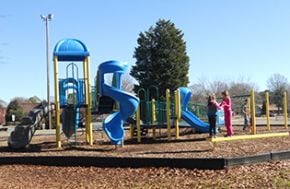 If your older kids ask to go to the park, try out the trio of playgrounds at Olde Providence Park.
On the grounds of Olde Providence Elementary School, these separate playground areas on different sides of the school are designed for kids ages 5-12, each offering lots of climbing, jumping and balancing activities for this age group. One has a 10-station fitness course; another a rock wall, large jungle gym and balance beams; the other a variety of climbing equipment, balancing platforms and basketball courts.
All the equipment is in good condition — one of the playground's equipment was replaced just last year — and they all have lots of wood mulch underneath. Despite being at an elementary school, one parent says the park is not overly crowded after school or on the weekends. One area has a walking track along with a large tree and picnic tables; the other areas don't have shade or many areas for sitting.
Parking: Yes, in school parking lots
Restrooms: No
Water Fountains: No
Baby Swings: No
Stroller-Friendly: Yes
Fence: No
Picnic shelter: No
Shade: Limited
Olde Providence Park?
3800 Rea Road