Playground Review: Walter Henderson Park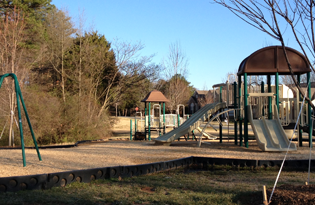 Walter Henderson Park
20214 Tailwind Lane, Cornelius
It is getting to be park season, so why not try out a different local park? I highly recommend Walter Henderson Park in Cornelius. Lots of perks – not very busy, separate play structures to best suit different age groups and a nice shaded gazebo.
This park is on the edge of a neighborhood, so there is off-street parking. It is definitely suited for crawlers up to older elementary-age kids. The main downfall is there is no bathroom and not a lot of shade. But in my opinion, this place is a hidden gem. My boys and I will definitely be going a lot in the upcoming months.
The Scoop:
Bathrooms: No
Baby Swings: Yes
Shade: Under Gazebo
Parking: Off street, not parking spots
Stroller Friendly: Yes
Picnic Shelter: Yes
Fence: No
Laurie Wragg is a teacher, wife, and mom to two under age 4.
> Read last month's playground reviewÂ