Playground Review: Plaza Fiesta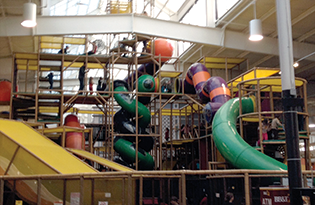 Plaza Fiesta
Crossroads Mall, 3700 Avenue of the Carolinas, Fort Mill, S.C.
plazafiestacarolinas.com
I had heard of Plaza Fiesta but never actually made the trek there. My sister-in-law had just taken her 18-month-old and said it was super-fun. She went on a weekday, and nobody was there. Because of my job, we had to go on the weekend, and it was packed!
Plaza Fiesta is a six-story play area with slides, soft structures and obstacle courses, all in a big roped-off area totaling 5,000 square feet. It costs $5 for three hours during the week, or 1 hour and 45 minutes on the weekend. The play area is in the food court of Crossroads Mall. There is also an arcade where you have to pay, so be prepared. We had to wait in line for 20 minutes with two kids under 3, right next to the arcade. Thank goodness for the Disney Jr. app on my phone.  
This was fun, but if you have a younger child you will need to do the slides and everything with them. There is a separate toddler area with soft and safe mini-slides. We worked up a bit of a sweat and had to bribe them out with ice cream to leave. I think this is better suited for the 5-and-up age group. Officially it is open to ages under 1 to age 12.
The Scoop
Bathrooms: Yes
Baby Swings: No
Shade: Yes, indoors
Parking: Yes
Stroller Friendly: No
Picnic Shelter: N/A
Fence: Yes
Laurie Wragg is a teacher, wife and mom of two under age 4. 
> Read last month's playground reviewÂ