Planes, Trains and Automobiles
Explore these museums to experience these popular modes of transportation up close and personal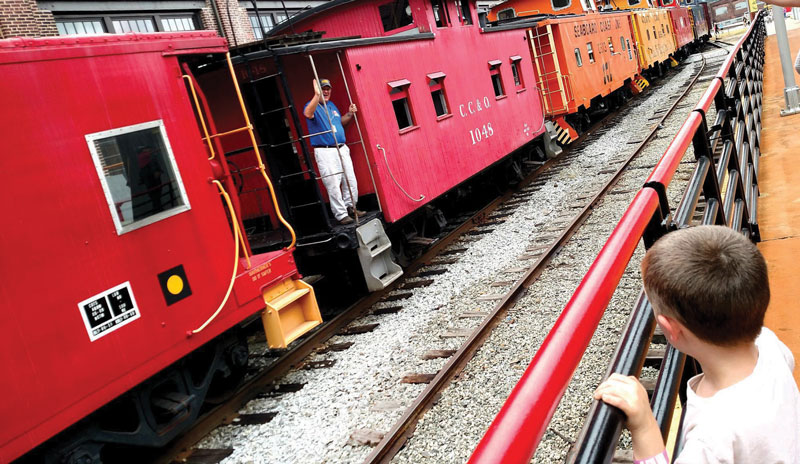 Whether your family gets excited about planes, is over the top about trains or loves a fast car, Charlotte and the surrounding area has something for everyone to do and see. From changing tires as part of a pit crew at the NASCAR Hall of Fame to riding the rails at the N.C. Transportation Museum in Spencer, North Carolina, these places offer an interactive way to learn about all things transportation.
Planes
If you want to learn about the history of flight and get a look at those big metal birds, head to the Carolinas Aviation Museum located near the Charlotte Douglas International Airport. See a replica of the Wright Brothers plane, experience the evolution of military aircraft and view the award-winning "Miracle on the Hudson" exhibit featuring the actual passenger jet that landed safely in New York's Hudson River in 2009. The museum is located in an airplane hangar, and while it has tons of cool things to see and do, it doesn't have air conditioning. 4672 First Flight Drive, Charlotte.
There's more: "The museum has a wide variety of programming for the next generation of STEM professionals, including STEM field trip experiences, camps, summer workshops and flight simulator programs," says Katie Swaringen, VP of visitor experience.
---
Charlotte Douglas Airport Overlook
Pack a picnic, bring some chairs and head to the Airport Overlook to watch one of the world's busiest airports in action. From your perch, you can observe planes of all shapes and sizes race down the runway and into the sky. Best of all, the overlook is free. There are picnic tables and benches available, but not much shade. Pair this stop with a trip to the Charlotte Aviation Museum and your day of flight is ready for take off. The overlook can get loud so consider packing earplugs. 7300 Old Dowd Road, Charlotte.
There's more: "The Airport Overlook is a wonderful community amenity that offers many children their first introduction to Charlotte and aviation," says Jack Christine, Charlotte Douglas International Airport chief operating officer. "In addition to providing families a place to gather, we hope it also inspires children and young adults to enter the aviation industry as working adults."
---
Trains
Spend a day exploring Charlotte by rail. Start your day by dropping your car at one of the 11 Park and Ride locations, then let the adventure begin. With 19 miles of track from Interstate 485 at South Boulevard to UNC Charlotte's main campus, you are in for a full day of fun along the 26 light rail stations. Spend time at ImaginOn and First Ward Park at Seventh Street Station, tour the NASCAR Hall of Fame at Third Street and Convention Center station. Hop off at Bland Station and walk to South Church Street for ice cream at Golden Cow Creamery. Children age 5 and younger ride for free.
There's more: "Parents and kids alike will love riding the LYNX Blue Line light rail service from I-485 Station in south Charlotte to UNC Charlotte Main Station in northeast Charlotte," says Krystel Green, public and community relations manager, Charlotte Area Transit System. "And parents are bound to find eats that satisfy even the pickiest palate, or use Lynx to connect to cultural events that will expand your child's imagination."
---
If your brood is all about trains, a trip to the N.C. Transportation Museum in Spencer, North Carolina, is worth the one-hour drive from Charlotte. The 60-acre site is filled with exhibits, educational activities and fun all dedicated to work, travel and life on the railroad. Learn about train whistle signals, take a ride around the grounds and explore vintage cars from a bygone era. Children also can check out classic fire trucks and learning about the history of aviation. 411 S. Salisbury Ave., Spencer. .
There's more: "The N.C. Transportation Museum is Charlotte and the Piedmont's home for The Polar Express Train Ride and Day Out With Thomas, but you can also enjoy train rides, check out the interactive exhibits and see massive steam engines, classic fire trucks, airplanes and classic cars all year round. It's a day trip for everyone in the family," says Mark Brown, information and communications specialist at N.C. Transportation Museum.
---
Automobiles
If your family has the need for speed, an afternoon at the NASCAR Hall of Fame in uptown Charlotte is just the ticket. The hall is filled with action-packed, high-octane entertainment. See how racing and North Carolina have impacted each other through exhibits honoring the history and heritage of NASCAR. Check out the cool artifacts from bygone days of racing and learn about the latest racing technology drivers and crews depend on to get to the finish line. When you are ready, jump into the action and test your skills in the racing simulator and the pit crew challenge. Plus with STEM-centered activities, kids can bring classroom lessons to life. 400 E. Martin Luther King Junior Blvd., Charlotte. .
There's more: "The NASCAR Hall of Fame is an interactive entertainment attraction that offers fun for the whole family," says Laura White, CRVA director of communications. "From realistic racing simulators and a pit crew challenge to an interactive Kids Zone and STEM experiences the NASCAR Hall of Fame is a must-see attraction in Charlotte."
---
Courtney McLaughlin is a freelance writer in Charlotte and enjoys exploring the city and beyond via plane, train or automobile.