Pitch Perfect: New App for Music Students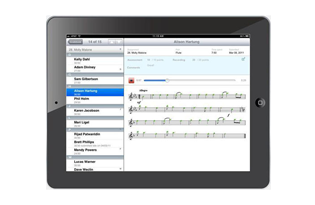 Hough High School Orchestra Director Bill Myers no longer needs a tape recorder to listen to a student's pitch. He now uses the SmartMusic App – a new form of technology that's changing the way students practice and learn to play instruments.
This interactive tool is designed to address an individual player's needs and allows a student to play alongside SmartMusic's background accompaniment of a full ensemble. Students play with the music onscreen and are provided immediate feedback on their performance. Teachers can create and send assignments, and the assignment can be documented and graded for progress and individualized instruction.
"Based off that information, I can write the student a note with suggestions based on what I hear from the recording and what SmartMusic hears," says Myers. Myers uses the app to grade 50 percent of the student's assignment, and his or her trained ear provides the other half.
In Charlotte-Mecklenburg Schools, the goal is to integrate technology similar to the app in order to support inspired learning and technology. Students who do not have access to SmartMusic or other technology at home are able to practice with the software before or after school.
According to the National Association for Music Education, students in high-quality school music programs score higher on standardized tests compared to students in school with deficient music education programs. Schools that have music programs also have significantly higher graduation rates than do those without programs – 90.2 percent as compared to 72.9 percent. The House of Education Committee is working to pass a bill that would require students to have arts education credit for graduation beginning with the freshman class of 2016.