Pinky's Westside Grill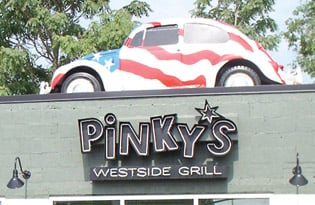 Some days you just want a good burger and fries. What makes a burger good can be defined many ways, but the guys at Pinky's Westside Grill give you some pretty juicy options, at affordable prices.
The "championship burgers" include the Pterodactyl, a 5-ounce beef burger, and the Mammoth, a combo of two 5-ounce burgers. These beefy mouthfuls can be served three ways or with any fixings you like – all served in a basket lined with paper.
My preference is Westside style with chili, slaw, mustard and onions. Special burger variations include the Maddy Patty Melt, The Jive Turkey burger,and a veggie option, The Nature Boy, that is bean-based and topped with roasted red peppers and provolone.
Pinky's, however, is more than just burgers. The Uptown Tuna Melt is very tasty, with a wasabi-mayonnaise twist, and the Falafel tastes authentic. Appetizers range from tangy fried pickles to white bean and rosemary hummus. I recommend the Pimp'n Fries, which are waffle fries topped with melted homemade pimento cheese. Nobody says this side item is healthy, but I can attest it IS delicious.
Kids can choose from Popcorn Chicken or Corn Dog Shrimp baskets, a grilled cheese sandwich, a variety of hotdogs – including corn dogs and veggie dogs – and, of course, burgers. And they make a pretty mean banana pudding.
We like to sit in the back of restaurant, which boasts a tiki-bar theme with an open garage door. The open-air atmosphere and bright blue walls add a bit of whimsy to any meal and an element of relaxation, which is what this place is about. With ties to the old Penguin in Plaza Midwood, Pinky's is an unpretentious place to have comfort food with friends and family.
Located just west of uptown in the old auto body shop with the red, white and blue VW Bug on the roof and a concrete triceratops out front, Pinky's entices kids with its cool factor. It is easily accessible from I-277 and has a great view of the uptown skyline. There are only a handful of parking spots in front of the restaurant, but there is parking behind the building.
THE CHOW DOWN
Pinky's Westside Grill
1600 W. Morehead St.
Dollar Deal: $2.95-$7.95
Décor/Atmosphere: Fun art, 1950's diner vibe with airy, blue back room
Amenities: High chairs and boosters
Got Milk/Juice: Yes
Phone: 704-332-0402
www.pinkyswestsidegrill.com