Picture Perfect Holiday Fashion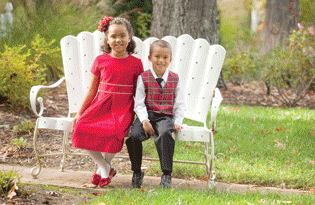 Camera flashes will be popping as family and friends gather to celebrate the holidays. Parents want children to look their best for the cherished photos that will be pasted in albums and frames for generations to come. We've got ideas for some holiday outfits that suit different occasions, tastes and budgets, and take into account the comfort factor.
Our 2010 Cover Kid finalists, Miia, Maison, Ava and Samuel, model the season's top fashions for children of all ages. From dressy holiday classics to comfortable clothes that carry over to the new year, these dresses and coordinates look nice without being stuffy.
Whether searching for the perfect holiday dress for Christmas, Hanukkah or a New Year's Eve celebration, little girls will feel fun and festive in modern ruffles, hot seasonal pinks and golds, and sassy shoes with a touch of glitter and glam.
Boys will be boys, but that doesn't have to limit their cute quotient. Sweaters with holiday graphics are merry and bright, but also comfy for tumbling in the yard after Christmas dinner. For more refined looks and occasions, choose from pre-coordinated sets in traditional red, black and green plaid.
For more details on the holiday outfits:
Fancy Pants, 1025 Providence Road, 704-344-0333, www.fancypantschildren.com.
Kixx Shoes, 1730 E. Woodlawn Rd. Suite G, 704-676-1517, www.kixxshoes.com.
Milk Money Boutique, 9601 Brookdale Drive, Suite 300, 704-598-0001, www.milkmoneyboutique.com.
Pigtails and Crewcuts, Cotswold Village Shops, 310A S. Sharon Amity Road, 704-366-9100, www.pigtailsandcrewcuts.com.
Tootsies Too, located inside Fancy Pants, 1025 Providence Road, 704-379-1992.
Photos by Donna Jernigan Photography, www.jerniganphoto.com. Shot on location at Whitehead Manor Conference Center, 5901 Sardis Road, www.whiteheadmanor.com. Styling by Tiara Parker from Pigtails and Crewcuts, www.pigtailsandcrewcuts.com.