Physical Education and Recess Improve Behavior, Test Scores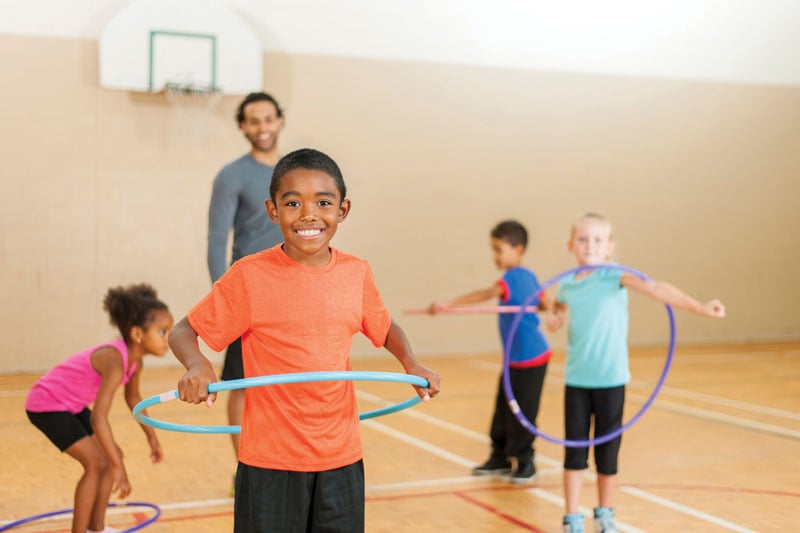 Everyone knows about "the three R's" of education — reading, 'riting and 'rithmetic. But there is a fourth "R" — recess — that educators and doctors say is crucial to improving students' academic achievement.
"Many schools, from elementary all the way through college, are getting rid of P.E. [physical education], thinking that they will be able to cram more information into students' brains by dropping P.E. out of the curriculum," says Becca Battaglini, director of the Lifetime Fitness/Physical Activities Program in the department of exercise and sport science at UNC-Chapel Hill.
In fact, Battaglini says she is aware of research showing that being active helps students learn better and improve their test scores.
Improved Test Scores
Kim Cooke, a health and physical education specialist with Charlotte-Mecklenburg Schools, has conducted research confirming the link between physical activity and improved test scores.
In her research, students were administered the CMS Fitness Test Assessment that measures cardiovascular endurance, abdominal strength, flexibility and upper body strength.
Only 16 percent of third-grade students met the assessment's fitness standards. Thirty percent of all sixth-grade students met the standards.
Cooke looked at the academic records of students in grades three through six who met all fitness standards to determine their average increase on reading standards.
"In third grade, the national standard was 8, while for students meeting [all of] the CMS fitness standards, reading growth was 9.46," she says. "Measures in fourth- and fifth-graders were also above the national average."
Math performance also improved. For third-graders who met all of the, CMS fitness standards, Cooke says the students' average growth was 13.04, compared to the national average of 11. Among fourth-graders, the difference was even more significant: a 12.38 average compared to the national average of 8.
The Impact on Students With ADHD
Dr. Kurt Klinepeter, M.D., a professor of pediatrics at Brenner Children's Hospital in Winston-Salem, also sees a link between recess and performance, and the behavior of students with attention deficit and hyperactivity disorder.
"There are physical and aerobic links to exercise for ADHD children," he says. "How much play and how often is what is not known yet. There's still a lot of work to be done in figuring out that relationship. The nuts and bolts are not yet understood."
Battaglini also notes the value of exercise for ADHD kids. "These kids need to get out and burn off that energy so they will be calmer in the classroom," Battaglini says.
The Walking Classroom
For the first time in history, the next generation will not live longer than their parents, according to research by the Centers for Disease Control and Prevention. The research states that obesity in children today may contribute to a two- to five-year decline in their life expectancy — shorter than that of their parents. Cooke and Battaglini note that exercise is crucial to reducing obesity, and they therefore advocate for several programs in schools that promote movement and exercise.
Cooke supports "Achieve 225," a daily recess program promoting 45 minutes of moderate to vigorous physical activity for all students.
Another concept she champions is the Kinesthetic Classroom, a learning approach through which students participate in physical activities to learn, rather than listen to a lecture or watch a demonstration.
"We need to use best practices to get kids involved in activity learning — getting them out of their seats and on to their feet," she says. "Sitting can be deadly."
Battaglini touts The Walking Classroom as a "wonderful elementary" resource. This Chapel Hill-based, nationally recognized, in-school fitness initiative and obesity intervention program was created to improve health literacy and build core content knowledge while addressing different learning styles. Students take brisk, 20-minute walks (preferably outside) while listening to written and recorded content aligned to the Common Core State Standards. Detailed lesson plans contain defined objectives, discussion questions and comprehension quizzes for each educational podcast. When students return from their walk, teachers review the content with them.
Battaglini, who has three children ages 13, 10 and 7, has first-hand knowledge of the tie between physical activity and improved educational performance.
"My eldest daughter did a memory test for a school project," Battaglini says. "[The teacher] uncovered a box that she had placed 50 objects in and tested how many items the kids remembered. Then the children had five minutes of exercise. When they got back, she uncovered a [second] box that had 50 different items. The children were able to remember considerably more items" the second time around, she says.
"Just having a class get up and do a couple of jumping jacks can help," Battaglini contends. "If schools can justify it, they should have more recess."
Anne Wooten Green is a freelance writer from Winston-Salem.
---
Withholding Recess to Punish
Withholding recess is a common means of punishment for children who act up in the classroom. In a recent Charlotte-Mecklenburg Schools study, nearly 70 percent of teachers withheld recess as a form of punishment.
Cooke says, according to the North Carolina State Board of Education's Healthy Active Children Policy, that should not be happening.
A portion of the policy states:
"Recess shall consist of unstructured free play or structured games and activities. Recess and physical activity shall not be taken away from students as a form of punishment; furthermore, exercise shall not be assigned for use as a form of punishment for students."
"Recess is a right, not a privilege," Cooke says.