Pet Sitting Business for Kids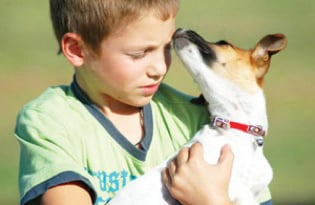 Quarters will be clanking into piggy banks soon, as the weather heats up and lemonade-stand entrepreneurs quench their clients' thirst on corners from Fort Mill to Mooresville. If your child loves animals, he or she might consider starting a dog-walking, pet-sitting or pooper-scooper business.
According to ShowKidsTheMoney.com, children who run their own business learn communication skills, responsibility and self-management. They also to become more dependable and frugal — learning the value of a dollar.
To get started, check out a book about pet care at the library and talk with a vet or the owner of a pet boarding facility to learn the essentials of pet care. Naming the business and creating a colorful, informative marketing flier is the next step. Putting fliers in mailboxes while the family is on a neighborhood walk is one way to get the word out, but knocking on a few doors and introducing himself can help him gain confidence in speaking with adults.
Be sure your child knows important safety rules for himself and the animal in his care. He must never stop to talk with a stranger and/or let anyone else know the pet's owner is at work or away on vacation. Your young pet-sitter wannabe should also he will be caring for a living creature, and he can't forget his responsibilities or decide he is too tired to take care of the animals in his care.
And before accepting any dog-walking or pet-sitting jobs, your child should get to know the animal, and make sure he and the pet are compatible.
Finally, you, as a parent, must be ready and willing to supervise your child in this endeavor to ensure any and all pets receive the utmost in attention and care. Here are some other tips from the Humane Society of the United States:
• Take notes about the animal — likes, dislikes, fears, habits, medical conditions, medications and routines — when negotiating for a pet-sitting job.
• Keep the name and phone number of the pet's veterinarian and the closest animal hospital handy. The national hotline for the ASPCA's poison control center is 888-426-4435.
• Get the contact information for the animal's owner and detailed instructions for entering the house, especially if there is a security system.
• Make sure parents or a reliable friend can provide back-up care if there's an illness or emergency.
• Write a contract spelling out what services will be provided and the fee, and get the pet owner's signature. CP