Perfect Preschool Picture Books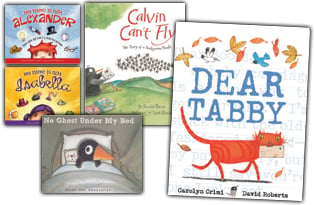 "My Name is Not Isabella" by Jennifer Fosberry; pictures by Mike Litwin. (Sourcebook Jabberwocky, 2008). A charming book about a little girl on an imaginary trip through history, pretending to be some of the greatest women who ever lived, encouraged by her ever-present mom. Through the creative use of graphics and colorful illustrations, the reader is drawn into Isabella's world. Short bios of famous women she aspires to be, including doctors, scientists and astronauts, close the book.
"My Name is Not Alexander" by Jennifer Fosberry; pictures by Mike Litwin. (Sourcebook jabberwocky, March 2011). The newest adventure from author Jennifer Fosberry is for boys. Join Alexander as he takes a wild ride through an historical journey, discovering scientists, rough riders and heroes, all in a day's imaginings.
"Dear Tabby" by Carolyn Crimi and David Roberts (Harper, 2011). Tabby D. Cat lives in the alley, writing her advice column and responding to letters from lost circus bears, shy groundhogs, stinky skunks, and depressed dogs. This hilarious collection of letters will make children and adults smile, ending with a lesson about finding happiness everywhere.
"Calvin Can't Fly" by Jennifer Berne; illustrated by Keith Bendis (Sterling Publishing, 2010). Calvin is a bookworm bird. While the other starlings are learning to fly, he buries his beak in books, until one day when it's time to fly South. What will Calvin do? In a story where every talent has its place, Calvin saves the day. A fun read with a lesson that everyone matters.
"No Ghost Under My Bed" by Guido Van Genechten (Clavis Publishing, 2010). Jake the penguin can't sleep; he's got too much on his mind. Besides, there's a ghost under his bed, and in the closet … and seemingly, everywhere! In the end, Jake's ghost-busting dad chases the ghost away so Jake can sleep. Van Genecthen's award-winning illustration style completes the story.