Pear Ginger Pork Chops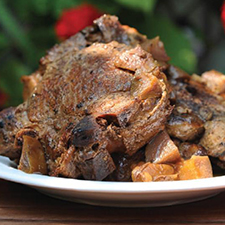 I love coming home and smelling the fall flavors in this dish. The ginger adds a nice accent. The pork chops come out succulent and tender. 
Ingredients
4 thick cut pork chops
2 tbsp coconut oil
½ tsp cinnamon
1 tsp allspice2 ripe d'anjou pears, cored and cut into chunks
2 tbsp apple cider vinegar
1 cup white wine (can substitute water or broth)
2 tbsp honey
1 tbsp ginger, minced
Salt and pepper just before serving
Cooking Instructions
› Melt 1 tbsp of the coconut oil in a heavy-bottomed pan over medium heat.
› Brown the pork chops on both sides (in batches if necessary) for about 5 minutes total and place in the slow cooker.
› Sauté the pears and ginger in the remaining coconut oil.
› Add the vinegar and wine, turn to medium low and cook for 5 minutes to reduce slightly.
› Pour mixture over chops in slow cooker.
› Cook on low for 6 hours.
› Salt and pepper to taste, then serve.
SERVINGS: 4