Peachy Green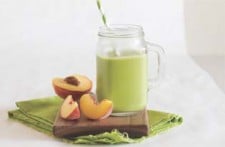 This smoothie is perfectly green and full of peach flavor. Even though it's green, your kids will never even know that this smoothie is packed with healthy spinach because spinach is so mild. The giner adds a bit of background spice that keeps the smoothie interesting
Ingredients
Makes4 (9-ounce) servings
2 cups coconut milk beverage
2 cups frozen sliced peaches
2 frozen underripe bananas
1 teaspoon grated fresh giner
2 cups loosely packed spinach leaves

Instructions
1. Pour the cocunt milk into a blender. Add the peaches.
2. Slice the bananas and add to the blender. Add the giner and then the spinach. Blend until smooth.
Note: Coconut Milk Beverage
I use the coconut milk beverage that's sold in shelf-stable boxes-not full fat, canned coconut milk. The coconut milk beverage is thinner and easier to incorporate into a smoothie than the canned coconut milk. Coconut milk is lower in protein and calcium than cow's milk, but it is also lower in calories. It does have a light coconut flavor that will be recognizable in some smoothies, so keep that in mind if you are substitutuing it for a cow's milk. Read the label to make sure that the product contains only coconut milk and filtered water. Do not substitute coconut water for coconut milk beverage the the smoothie recipes.
Source: Best 100 Smoothies for Kids