Parents to Know: Anne Todd of Beads Incorporated
She's been with the Myers Park business for more than a decade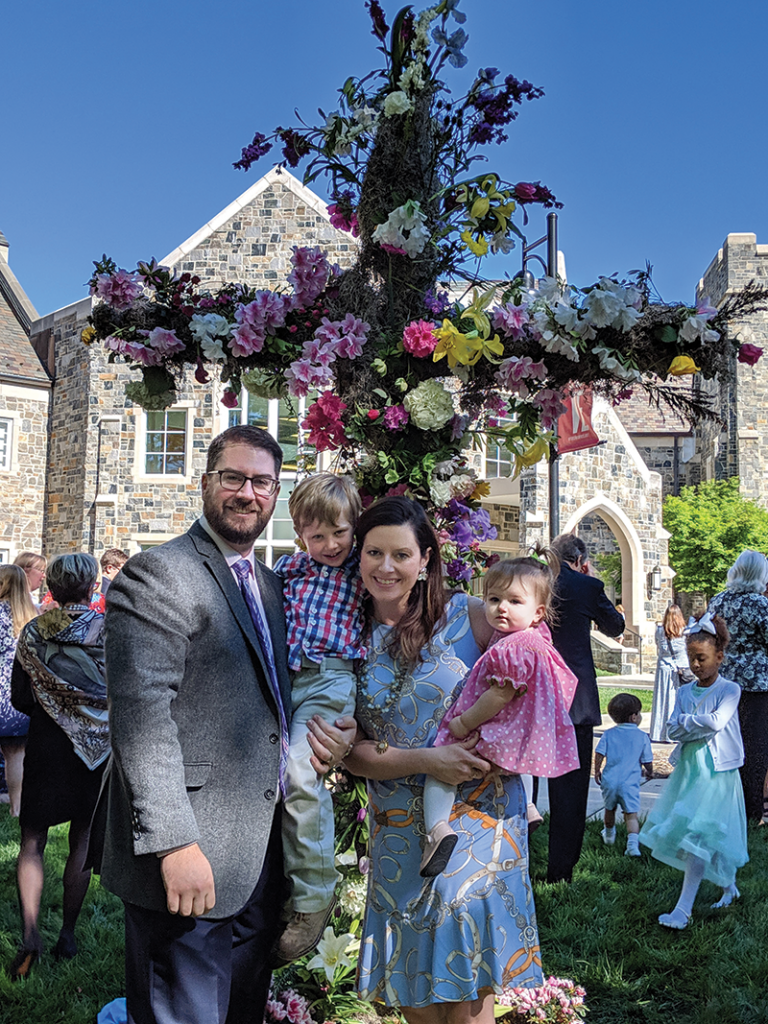 Anne Todd is the general manager or Beads Incorporated, a local source for beads, jewelry, supplies and instruction. She and her husband Andrew Todd are parents to Warren, 3, and Mia, 1.
Where in Charlotte do you live and where did you grow up? I grew up in Charlotte. We live in the Cotswold area and have been in our house for eight years. Our neighborhood has tons of children and there is always someone to play with.
Tell us about your job. What's it like? What do you like most about it? What are the challenges? I am the general manager of Beads Incorporated in Myers Park. My sister Christine owns the company, and I have worked with her for over 10 years. I manage a team of 20 ladies. We teach customers how to make their own jewelry. We also help create custom jewelry. Clients are inspired within our store, and I love helping them learn new techniques. The personal relationships we have with our customers make my job even more special. We help customers of all ages, including children.
Scheduling staff is the hardest part of my job. We have 20 team members, and almost all of them have another job or schooling that to plan around.
What's the hardest part of juggling family life and work life? The hardest part is getting everything completed. There just are not enough hours in the day sometimes. I may have to do work at home once the children go to sleep, or I might need to grocery shop on my lunch break. With children, at each milestone in their development, your routine changes and you have to adapt.
Best advice ever received: Slow down and make sure not to miss the special moments in your children's lives. I believe that it is important for parents to make time for themselves, whether that means having regular massages or date nights. Spending time making myself happy makes me a better mother and wife.
What is your favorite thing about raising a family in Charlotte? I love the weather because my family loves to spend time outdoors. We love taking our children to Discovery Place Science, Discovery Place Nature and ImaginOn. We also enjoy going for a swim at our area pool, plus there are so many delicious family-friendly restaurants.
Proudest parenting moment: Watching Warren meet his baby sister for the first time. He is just the sweetest big brother. If she is crying in the car, comforts her by saying, "Don't worry Mia, brother is here." It just makes me melt. I also love that Warren wants to make jewelry at home with me. We have such fun stringing bracelets and necklaces for him and gifts for his friends.
Lowest parenting moment: Warren went through potty-training regression after Mia was born. One time while I was picking up some things at the store, he had an accident in the middle of the aisle. I was mortified. I ran to the paper-towel aisle, cleaned it up as best I could, all while wearing Mia in the Ergo-Baby carrier.
What are three things you can't live without? Lots of bags, Post-it notes and Diet Dr. Pepper. I need bags and Post-its to stay organized, and most mothers, including myself, need a fair amount of caffeine.
Favorite Instagram account: @younghouselove
Last book read: "A Gentleman in Moscow" by Amor Towles.
What inspires you? I want to be a strong confident role model for both of my children. Everyday, I want to do better so they are inspired to be better. As far as design inspiration, I look everywhere, from nature, art and being around the beads themselves.
Michele Huggins is the editor of Charlotte Parent magazine.