Out to Eat: Try Terrace Cafe for Brunch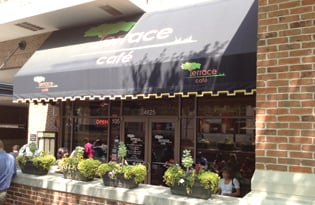 Terrace Café
Piedmont Town Center, 4625 Piedmont Row
704-554-6177
TerraceCafeCharlotte.com
$-$$
Terrace Café is a great option for celebrating mom on Mother's Day or for mom to get away and have lunch with the ladies.
If you like brunch, there's a lot to love about Terrace Café. Located at Piedmont Town Center by SouthPark, the ambience is modern but cozy. With sweet and savory items good for all ages, it's no wonder that it attracts so many families on weekends (which means you may encounter a wait).
French toast fans may have a hard time choosing between the s'mores, banana and orange-infused options. I recommend the Banana Pecan French Toast if you have a hankering for something sweet, or give the Red Velvet Waffle a try. Waffles are big here, literally and figuratively. My husband is a fan and thoroughly enjoyed the Malted Belgian Waffle.
For those who devour pancakes, choose from blueberry, strawberry, banana, pecan, chocolate chip or plain. Pancakes are priced $8-$9.50, so if your kids aren't big eaters, consider letting them share, or order the animal pancakes with egg, sausage and bacon for $5.50. The Breakfast Sides menu is also a good option with a la carte items for less (one egg is $1.50).
Those who savor salty over sweet can choose from among hefty three-egg omelets, five different kinds of eggs Benedict, biscuits and gravy, and shrimp and grits. Service is good, but it can take some time to get your food if the place is busy. Bring something to keep kids' attention while you wait. There's also a great coffee bar. I had a well-made latte, and overlooked the salted caramel latte … but there's always next time.
SIDE DISH 
Milk and Juice: Both • Changing Stations: Yes • Kids Menu: Yes
Symbol Key: $ = under $10 • $$ = $11-$15 • $$$ = $16-$20 • $$$$ = $20-plus
> Read last month's restaurant review: Blu Basil