Our Farewell Year with Superintendent Ann Clark
A discussion with Ann Clark about leadership and legacy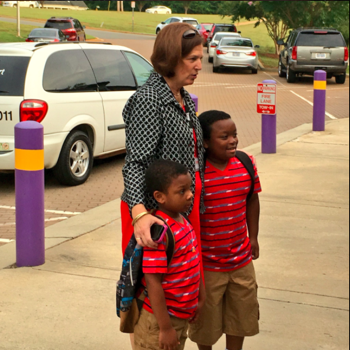 School is back in session, which means stocking up on loose leaf paper, after school snacks, and cold medicine, and saying goodbye to summer bedtimes. But this year, we'll also be saying goodbye to our superintendent.
I met Ann Clark a long time ago; she was my high school principal. We don't know each other very well, but I feel like I've learned a lot from her.
Traveling the halls with a walkie-talkie in hand, she always struck me as an upright woman. Someone who made you want to stand up taller. Principal Clark struck me as formidable but not severe, kind but not naïve.
From my days at Vance High, I learned from her that you don't have to be loud to lead. I learned that dealing with dissent is a fundamental part of leadership, which also means that other people's opinions of you cannot be the compass by which you lead.
Growing up in Charlotte, I also saw my former principal become the district's rising star and the heir-apparent to the superintendency.
But then, of course, I learned that even if you have the requisite knowledge, experience, passion, and track record to do a job, you can still get passed over.
I sat down with Superintendent Clark a few months ago, and we spoke a bit about how she stays committed to leading a district that hasn't always reciprocated the love.
---
"We have some serious work to do," says Clark, making it clear that her motivation isn't about her ego but about the kids she serves. "And I love this district. I'm going to stay in Charlotte for the rest of my life. This is my home; this is my community."
Before accepting a short-term contract for the superintendency, Clark had plans to retire from Charlotte-Mecklenburg Schools and had even secured another job. She gave up those plans when tapped by the school board to succeed Heath Morrison upon his resignation.
Then when the school board decided to extend her contract another year, the decision was met with some highly vocal opposition.
"That was particularly hard. It felt like I was made out to be the bad guy, like it was my fault the board hadn't hired a search firm, when that's clearly one thing I didn't own," Clark says.
Superintendent Clark's long tenure with the district – over 30 years – makes her an easy face to blame for the educational missteps that have occurred in Charlotte's recent past, even though she didn't have the leader's chair until January 2015.
But now that she's in the role, she says, "I'm completely energized by the job; I'm having a ball. I love it, and I think the reason I do is because I can finally put my voice to it."
Despite the baggage of a mixed public perception, Clark feels there's a certain freedom that comes with having a defined end point to her superintendency.
For a woman known in the public mind as being composed and strait-laced – almost to a fault – she minces no words about the opportunity this final year provides.
"Because I'm not seeking to extend my contract, I feel like I can say exactly what I think is right. For kids. And not worry about, 'Do I have five votes? Will they support it?' Because I don't care if they don't like it," says Clark. "I'm telling you this is my best thinking based on everything I know about the district and every person I've listened to; if you want to vote it down, vote it down, and you explain it to the public. And no other superintendent in my tenure here has ever been able to do that."
---
So what's her focus for this final year?
Getting a high-quality principal in every school.
Making "big progress" in literacy.
Ensuring that a CMS diploma means something.
See, over the last several years, the district has been focused on raising graduation rates—and it has.
In 2012, the cohort graduation rate (which is the rate at which students complete high school on time) was 75 percent. This past school year, 2015-16, the district's rate rose to 89.6 percent – the highest in the state.
But Clark understands that these numbers don't tell the whole story.
"What does it mean," asks Clark. "Does this community look at a CMS diploma and go, 'Wow, this means something?' […] The trajectory for the hundreds and thousands of kids represented in that move [to 89.6 percent] is very different. But we still have to push ourselves."
Superintendent Clark was clear that changing the relevancy of a CMS diploma would extend past her time as superintendent. But that's kind of the point.
"Hopefully, I'm leaving a legacy of continuous improvement," Clark says.
And with the challenges that still lie ahead, I hope so, too.
Want some say in the search for the next superintendent? There are several community events happening throughout the month of September designed to collect input from the public about the search and selection process. You should go!