Organization for a Home Filled With Kids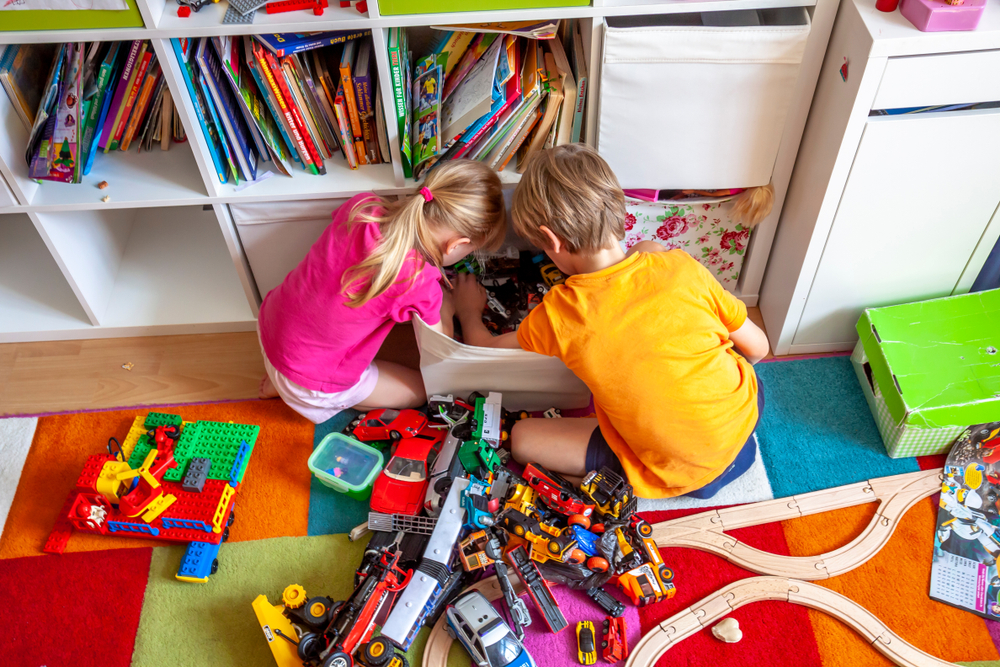 Ty Pennington of "Trading Spaces" and "Extreme Makeover: Home Edition" knows a thing or two about transforming homes and lives. Pennington is a featured speaker at the 2019 Southern Spring Home and Garden Show happening Feb. 22-24 and March 1-3. Below are tips and tricks from Pennington on how to keep books, toys and backpacks in their rightful places, and some thoughts on trends for a baby's nursery.
MH: For new parents, what are the trends for nurseries and what tips can you offer for setting up an efficient, cozy space?
Pennington: The spaces I'm seeing are very neutral in their color palette and blend with the overall home décor. Rather than having a blue or pink base, people are going with greys and whites, then accenting with a strong color like black or navy. The nursery is a pared down version of the adult rooms in the house. The look is sleeker and more streamlined.
MH: If you don't have a designated playroom, how can you create a space that's good for kids to play, but stays contained within a bigger space?
Pennington: Coffee tables or seating that doubles as storage can work to provide a hiding space as well as a surface for play. I think that the common theme with most kid-friendly living situations is having efficient storage. You are always going to have a mess in the moment, but having a quick and easy way of getting from chaos to cleaned-up is the real goal.
MH: What are your recommendations for keeping backpacks and coats, and all things that get dropped at the door, in order?
Pennington: I've seen this in action and know that you have about 60 seconds before they are in the door and then either off and running to play a video game, flop on the couch to watch TV or headed to the kitchen looking for a snack. So, having the drop-off point right at the door is ideal. Depending on size and number of kids, wall hooks are always the easiest solution, along with a basket as a catch all. Having a designated space for each child, whether it's one or five, can make things more organized with both departure in the morning and arrival home after school.
MH: When it comes to a toddler's room, any suggestions for keeping the toys and book chaos in order?
Pennington: Like the book and coat situation, having a designated space puts some order to the chaos. You probably aren't going to keep the Legos color coordinated, but just having a Lego bin can work wonders. I think that cubicle-style shelving units tend to work best because you have color and design options when choosing baskets or bins that can keep the toys contained, and it also provides a way to add a design element into the room with the type of container you choose.
Thinking ahead to how many things you bring into your house is a way to stave off a bigger issue. Toys are great, but keeping things streamlined can really help with the clutter. Plus, we all know the theory that kids end up playing with the box anyway.
MH: How about creating a homework station? What's your advice for setting up a space that works for the whole family?
Pennington: If your house doesn't offer the in-bedroom desk option, then the kitchen or dining room table is always a great go-to. Keep a small plastic container nearby of the supplies that are necessary during for homework time, and then you can throw it all in there for easy clean up when done. If homework includes a messier option like glue or paste, roll up a plastic table cloth to keep in there as well for those sessions. Another idea if you have a communal space where the kids play and do homework is a lazy Susan in the middle of the table for storage of pens, markers, scissors, and so on in jars or containers.
Catch Pennington at the 2019 Southern Spring Home and Garden Show on the main stage in Independence Hall at the show Saturday, Feb. 23 at 11 a.m.
Michele Huggins is the editor of Charlotte Parent magazine.