On the Go With Fido: Keeping Your Pet Safe and Healthy on the Road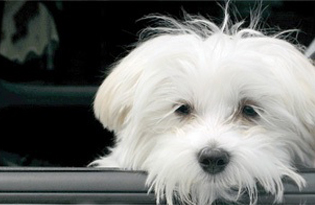 Many families will hit the road for Memorial Day weekend or in June once the kids are out of school, and the four-legged member of the family will be along for the ride. Most dogs love to jump in the car, and head out to explore new sights and sounds, whether the gang is going to the beach, the mountains or just to Grandma's house.
AAA Carolinas offers these tips to help you plan so Fido and Fluffy stay healthy and safe on the road.
1. Get a clean bill of health. A visit to the veterinarian before a trip is a good idea to make sure your pet's vaccinations are in order. Get a health certificate to take with you that shows proof of up-to-date inoculations. And be sure to ask about potential health risks at your destination (Lyme disease, heartworm infection, etc.) and the necessary preventive measures.
2. Pack all necessary medications. Include a sufficient supply for the duration of the trip, plus a few extra days' worth. Also, take the prescription in case you need a refill, and get a list of clinics at your destination from your vet or the American Animal Hospital Association (www.healthypet.com).
3. Find pet-friendly accommodations. More than 13,000 AAA-rated hotels and campgrounds allow pets. Pick up AAA's annual "Traveling with Your Pet: The AAA PetBook" to help you make reservations where your four-legged companion will be welcome.
4. Prepare for the long drive. Some animals enjoy the car, but others associate it with a visit to the vet. Train your pet to view a drive as a reward by taking short trips to places that are fun, such as the park or the bank drive-up window where tellers pass out dog cookies.
5. Restrain pets in the back seat. For safety reasons, animals should remain in the back seat, either in a carrier or a harness attached to the car's seat belt. Dogs should not ride in the back of pickup trucks, as they can jump out or be thrown. Also, avoid letting animals ride in a camper or trailer towed behind the car.
6. Keep flapping ears inside the window. Dogs love to sniff the fresh air and feel the breeze against their fur, but don't let your dog's head stick out the window, no matter how enjoyable it seems. Road debris and other flying objects can injure eyes and ears. Also this puts your pet at a greater risk for severe injury if the car stops quickly or is struck.
7. Limit food and water while driving. To help prevent carsickness, offer a light meal four to six hours before leaving home, and don't offer food or water while the car is in motion.
8. Allow stops for stretching and sniffing. AAA recommends drivers stop every two hours to stretch their legs, and pets appreciate the same break. Visit a rest stop every four hours or so to let your furry friend have a drink and answer the call of nature. Be sure your dog is leashed before opening the car door to prevent unexpected escapes. Even the most obedient pet can become disoriented and want to set off for home.
9. Check to be sure your pet will be welcome. Before you leave home, make sure dogs are permitted at the campground, park, beach and anywhere else you will be visiting. Other than service animals, pets usually are not allowed in public buildings.
10. Take precautions when exploring nature. When hiking with your dog, stick to the trail and keep your pet on a short leash, and be aware of indigenous poisonous plants, such as English ivy and oleander, or those causing physical injury, such as cactus, poison ivy or stinging nettle. Carry basic first-aid supplies, as well as fresh drinking water for both of you. Watch for signs of dehydration, leg or foot injuries, heat exhaustion or heatstroke. Note: Strong, healthy dogs can carry their own backpacks, but should never carry more than one-third of their body weight.
11. Attend to your pet at all times in wilderness areas. Few parks allow pets to be off leash or unattended, because the risk of bad encounters with other travelers or untamed wildlife is too great. The National Park Service may confiscate pets that harm wildlife or other visitors. If camping, crate your dog at night as protection from the elements and predators.
12. Return to the vet's office when you get home. Even if you just go to visit relatives, be sure to have your vet check your pet for injuries, parasites or ticks, and overall general health.
In Stores Now!
The 2010 "Traveling with Your Pet: The AAA PetBook" is available at many AAA club offices and at Barnes & Noble bookstores, as well as online at www.barnesandnoble.com for $17.95.