On-the-Go Apparel for Moms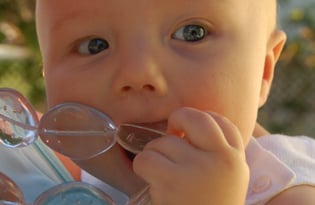 Bitable Beads
These non-toxic beads are a fashionable addition for moms with babies who are teething. The Sonny and Reed teething necklace was created by a mom whose baby was constantly pulling on her necklaces and putting them in his mouth. The attractive necklaces are made of beads that are solid with nubs on one side, and smooth on the other side. Necklaces available in clear, black with a clear logo bead, crystal blue and clear with pink cording for $29.50 and bracelets for $18.50 at www.sonnyandreed.com.
Hat Rx
All moms need a hat when on a sunny beach, by the pool or by a ballfield. The Wallaroo Breton is part of the Wallaroo 2010 Collection. Wallaroo is committed to the elimination of skin cancer and makes many of its hats from fabric rated UPF 50+. The Breton has a 4-inch brim with an interior adjustable drawstring, which enables you to customize its size, and is rated UPF 50+, great for that super sunny day at the beach. Wallaroo also has a children's collection of hats – for babies to tweens – that are rated UPF 50+ and are oh-so cute. Available locally at B Natural and Blackhawk Hardware.
Whip Out the Wipes
The Stockholm diaper bag from líllébaby is brand new with a unique shape made for busy moms on the go. It has a zippered top closure, four interior pockets, three exterior pockets and removable changing pad with a cushioned terry cloth liner. Best of all, it even has a built-in, easy access wipe container. Once Baby no longer is in diapers, this bag transforms into a purse, making it one you'll use for years to come. In plum, ocean blue, black and brown for $65 at www.scichild.com.
Mom-to-be Belevation
Developed for expectant moms, Belevation gives a gentle lift to expectant moms in their second and third trimesters. The symmetrical, highly engineered support panel extends through the lumbar region and under the belly, which helps reduce lower back pain, and the seamless four-way stretch gives maximum comfort. Available in a band, briefs and boyshorts for $24-$26 at www.belevation.com.
girltrunks
It's not exactly comfortable to be chasing little kids around the beach or pool in what feels like underwear. The comfy and practical girltrunks offer versatility for moms and eliminate the need to constantly reach for the cover up. Created by an active mom, who was planning a vacation river tubing in Montana, girltrunks are comfortable, quick-drying swim shorts. The swim shorts are available in two lengths for $79 at www.mygirltrunks.com.