'Nutcracker' Performances Offer Extras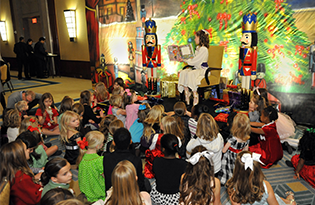 The classic "Nutcracker" holiday ballet puts stars in children's eyes as they watch Clara, dueling mice and the Sugar Plum Fairy dance across the stage in vivid costumes amidst magical stage settings.
Families in the Charlotte area have their choice of "Nutcracker" performances to attend, with some offering events just for children. North Carolina Dance Theatre hosts its Nutcracker Tea Dec. 16 from 4:30 to 6 p.m. at the Omni Charlotte. Guests can meet members of the "Nutcracker" cast and hear a reading of the Nutcracker story by Clara, decorate holiday cookies, and enjoy tea, sandwiches and desserts. For more information, go to ncdance.org.
Charlotte Youth Ballet celebrates its 30th annual performance this year at CPCC's Halton Theater Nov. 30-Dec. 2. Join cast members for tea and cookies, and a reading of the "Nutcracker" by Clara Dec. 1, 4 p.m. Cost is $10-$15. Purchase tickets by calling 704-330-6534.
The beloved Sugar Plum Fairy Tea Party takes place Dec. 2, following the afternoon performance of the "Nutcracker" by Matthews Ballet. Meet its cast and enjoy sweets. Tickets are $5. Purchase by calling 704-321-7275.
More Holiday Happenings
> Local Parades and Tree Lightings 
> Santa Sightings
> 10 Charlotte Holiday Traditions