NexGen Mint: New Program for Teens at the Mint Museum
A new program for teens at The Mint Museum.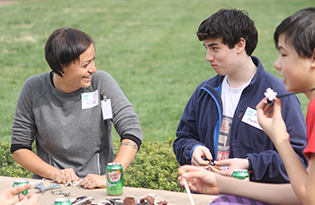 The Mint Museum is creating a place for teens to exchange ideas, have fun, interact and learn from artist role models and peers while also making art. The new program, NexGen Mint for ages 14-18, gives teens a free museum membership, exclusive opportunities to interact and foster creativity with internationally known artists who visit the museum, online interaction via a new website with teen-focused content, plus scholarships for 30 teens to attend a free week-long summer art camp.
A May design lab is scheduled that includes a talk with Dzine (aka Carlos Rolon), an installation artist and painter and author of a photographic history of nail art. His visit is also in conjunction with the "Body Embellishment" exhibition.
Learn more at mintmuseum.org/visit/nexgenmint.