New Book Offers New Approach to College Planning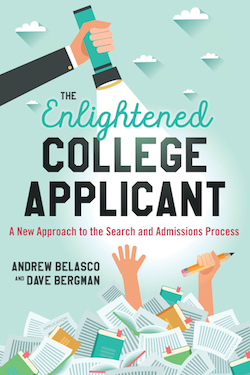 College Transitions is proud to announce the release of our first book, "The Enlightened College Applicant: A New Approach to the Search and Admissions Process," set to be released Sept. 1. If you've enjoyed reading our posts focusing on college admissions, be sure to add this book to your home collection.
Published by Rowman and Littlefield, one of the leading education publishers in the nation, "The Enlightened College Applicant" presents a no-nonsense account of how students should approach the college search and admissions process. Instead of providing recycled entrance statistics or anecdotal generalizations about campus life, our team incorporates cutting-edge data and research to pull back the curtain on critical topics such as:
Whether college prestige really matters
How to maximize your college admission prospects
Which schools and degrees provide the best return on investment
How to minimize the costs of a college education
What college-related skills are valued in the job market
A parent's role in the college admissions process
And much more
Whether your student is a valedictorian or a B/C student, this easy-to-read book will serve as a college guide for your entire family, enabling you to improve your college savvy while also being able to help you maximize the benefits of your higher education.
Early reviews testify to the usefulness of our work:
"A superb and refreshingly unique book that does a masterful job of equipping families with what they need to successfully navigate the entire college application process."
Lynn O'Shaughnessy
Author of The College Solution
Lead College Contributor to CBS Moneywatch​
​"This extremely well-written book empowers parents … a must-read and much-needed addition to the body of work focused on improving educational attainment in America."
Joni Webb Petschauer
Senior Fellow for the American College Application Campaign
American Council on Education
"Where can I purchase a copy?"
Families interested in reading more about The Enlightened College Applicant can pre-order on Amazon.
College Transitions is a team of college planning experts committed to guiding families through the college admissions process. As counselors and published higher education researchers, we aim to bring perspective (and some sanity) to college planning, and we strive to provide students with the support they need to enroll and succeed at a college that is right for them. Please visit our website—www.collegetransitions.com—to learn more.