New Adventures at Family Camp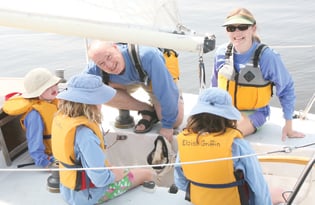 Jeff Roerden was not certain how his three daughters would react to a family vacation at Camp Seafarer in Arapahoe. "I knew I'd made the right decision when, less than 24 hours in, they asked if we could come back next year," he says, who lives in Raleigh. Roerden obliged and has returned to Camp Seafarer along the coast with his family ever summer for the past five years.
The Roerdens have discovered what many families in North Carolina have learned: Camping is a great opportunity to share special experiences and create lasting memories.
Camp Seafarer has been offering family camp programs for more than 20 years. "Families come to us from across the country to play together, learn and share new experiences. We also have a high rate of folks who return year after year," says Becky Schmidt, director of administrative services.
In an increasingly fast-paced, high-tech society, camping offers a much-needed break from the "real world," and a chance to slow down and savor nature and the outdoors.
"The reality is 'blackberry' is no longer a summer fruit," says Elizabeth Osborne. The mother of three says her family attends family camp every summer at Quaker Lake Camp in Climax. "Today, we can't seem to function without electronic devices. Family camp is an opportunity to disconnect from technology and reconnect with your family," she says.
Missy Schenck, executive director of Green River Preserve in Cedar Mountain, agrees. "Family camp is a generational opportunity to share something unique," she says. "From infants to grandparents, single- and dual-parent families, as well as family reunions, it's a fun, wonderful way to interact with each other and with nature."
Green River Preserve has been offering a family camp during Labor Day weekend for more than eight years. The concept was suggested by parents who wanted to revisit their own childhood camp experiences by camping with their children.
In August 2010, similar feedback from parents prompted Camp Tekoa in Hendersonville to launch its family camp. "While registering their children for camp, parents often asked, 'When can we come to camp?'" says Program Director Mike Pruett. About 30 people attended the three-and-one-half-day program last year, and Pruett estimates that number may double this summer.
Pruett says family camp is ideal for those who are "intentional about spending time together." In addition, it is an opportunity to meet and bond with other families.
"It is great to watch the camp experience unite these families and spark new friendships for kids and adults alike," Pruett says. "There is a genuine camaraderie that springs from the fellowship that occurs in this setting, and I think that is the unexpected bonus of family camp."
Schmidt has seen a similar phenomenon at Camp Seafarer. "Camp lays the foundation for community relationships," she says. "We know of many instances where families meet at camp, stay in touch outside of camp and look forward to seeing each other again the following year."
Easy on the Wallet
Family camp is an affordable vacation option for families of all sizes and types. Lodging, meals and myriad activities are included for less than the cost of a one-week beach rental. Many family camps are offered during the summer, although some, like Camp Seafarer, also offer weekend getaways at other times during the year.
Activities Abound
Depending on the camp and its location, structured activities may include archery, volleyball, mountain biking, canoeing, swimming, arts and crafts, scrap booking, fishing, disc golf and more. Camp Seafarer's proximity to the coast enables it to include deep-sea fishing, shark tooth hunts and a seamanship program among its list of activities. Family members can choose to participate together, or pursue individual interests.
"Camp Seafarer's staff is great. They create a safe environment that is well-run and organized, so there are no worries about the kids going off to do their own thing," Roerden says.
Eating and Sleeping
Accommodations at most camps are single-sex cabins with bunks. One exception is Camp Tekoa, where each family is assigned its own cabin, equipped with a shower and two toilets. Heat and air conditioning is not universally available at all camps, so it is best to inquire beforehand. Bathroom facilities vary from camp to camp, but most have toilets inside the cabins and shower stalls in a separate building. Meals generally are served in a dining hall, where campers eat together, family-style.
For Safety's Sake
Safety should be a primary consideration when researching family camps. In addition to accreditation by the American Camp Association, camps that offer high ropes elements like ziplines also should be accredited by the Association for Challenge Course in Technology. Camp equipment and facilities should be inspected by these organizations and/or independent inspector, as well as the local health department at least annually.
In case of an accident or other health concerns, medical care and first aid should be readily accessible. Additionally, Lydia Warren, senior program director at Camp Seafarer, urges parents to inquire about staff training and certification.
"Lifeguards should be Red Cross- or YMCA-certified, and camp staff should undergo a rigorous screening process that includes background and reference checks, as well as extensive training in emergency procedures," Warren says. Due to its coastal location, Camp Seafarer also assures its boat operators are licensed by the U.S. Coast Guard.
Overall, family camp is about having fun. "When you rent a beach house, someone (usually Mom) still needs to cook and clean, and make sure everyone is entertained. But at camp, all of that is taken care of, so all you need to do is relax and enjoy being together," Schenck says.
Maria J. Mauriello is a freelance writer, communications professional and the mother of two children. She lives in Raleigh.