NC Ziplines Canopy Tours
You don't have to travel to a distant rainforest to soar through the treetops on a zip line.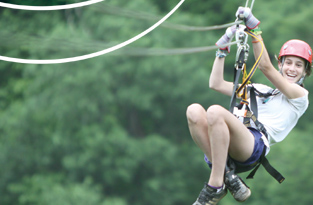 You don't have to travel to a distant rainforest to soar through the treetops on a zip line. There are several spots close to Charlotte, where adults and kids can see what it feels like to soar through the air some 20-60 feet off the ground.
My husband and I recently visited Carolina Ziplines Canopy Tour with our two oldest children, Carson, 9, and Morgan, 6. We left our 18-month-old home with a sitter. Each outfitted with a harness, helmet and gloves, we listened to a brief how-to session on braking (your hand on the cable) and positioning ourselves while zipping from one platform to the next platform (ankles crossed).
I initially had trouble letting go of my fear — the hardest part was stepping off of the first platform. I laughed nervously, took a deep breath and took the plunge. It wasn't easy, but after that first step, I had no trouble with the remaining zip lines. My biggest concerns were not braking soon enough and careening head first into a tree, or zipping on to the platform too fast. Both were unfounded, and the experience was exhilarating and, surprisingly, very relaxing. The experience was a fantastic way to de-stress from the work week.
My kids didn't have to worry about braking because of their low weight and subsequent lower speed. In fact, on a few zip lines, Morgan, who only weighs 36 pounds, accompanied one of the guides across the cables so that she wouldn't become stranded on the zip line because of low speed. Carson, accustomed to zip lines from summer camp, was fearless and enjoyed every minute of our two-hour adventure.
It also took a few trips down the zip lines before my husband was completely comfortable, but by the time the experience ended, we were already making plans for when we would return.
The closest place to try this out in the Charlotte area is the U.S. National Whitewater Center. The Climb 2 Zip offers fun from a 32-foot-high platform, where participants glide along the 100-foot zip line to the ground. It's a great way to try out zip lines with younger children, as an all-day/one-sport pass at the center is $25 per person.
Here are some additional destinations to check out if this kind of adventure appeals to your family.

Carolina Ziplines Canopy Tour
1085 Nickell Farm Road, Westfield
336-972-7656
www.carolinaziplines.com
Two-hour tour: Adults, $60; children 12 and younger, $40
This attraction, which opened in 2007 and is modeled after the popular eco-tourism activity found in Costa Rica, is about 25 miles north of Winston-Salem and about 10 miles from Hanging Rock State Park. It features a series of cables — up to 10 in one tour — that take you from one tree platform to the next.

Scream Time Ziplines
9250 U.S. 421 N., Zionville (near Boone)
828-898-5404
www.screamtimezipline.com
Two-and-one-half-hour tour: Must weigh at least 35 pounds, $89
The Regular Tour consists of six zip lines — the shortest one being more than 450 feet and the longest almost the distance of three football fields; and the Super Zipline sends you soaring through the air for more than 2,000 feet.

Nantahala Gorge Canopy Tours
U.S. 19, Nantahala Gorge, Bryson City
866-319-8870
www.wildwaterrafting.com/nanzip.php
Three-hour tour: Ages 10 (70 pounds) and older, $69
Opened in July 2009, this zip line canopy tour features three sky bridges and five transfer bridges that soar over 20 scenic acres within the heavily wooded setting of Falling Waters Adventure Resort.

Navitat Canopy Adventures
242 Poverty Branch Road, Barnardsville
828-626-3700
www.navitat.com (reservations required)
Three-hour tours: Adults, $85; children 10-17, $75
Just 20 minutes north of downtown Asheville, this canopy tour course opened May 15 and offers views of the Blue Ridge Mountains. The course is entirely tree-based and features 10 zip lines, including one that sends guests soaring 200 feet above the forest floor.