Momfidence Author Shares Wisdom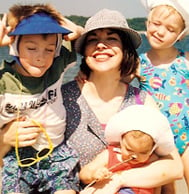 How does a journalist who writes for publications like Woman's Day and Parenting come to advocate "winging it" as a parenting style?
For years Paula Spencer made a career of interviewing all the leading parenting experts for a variety of publications. Then she became a mom and started raising her own children. She quickly found that parenting by the book didn't always work. With her own children, she often had the feeling that she was trying to push a square peg through a round hole.
Something was missing from all the parenting tomes with their guidelines and rules. What about instinct, reality, common sense, fun and parents? Aha! Momfidence was born! These five little building blocks became the foundation for Momfidence — an attitude of confidence that comes from knowing your own child, from parenting by your gut, not your guilt.
While Momfidence may come naturally to some moms, others find it difficult to chuck the rules and trust their own maternal instincts. Spencer sets out to relieve moms of the guilt inherent in stereotypical expectations. Refusing to take motherhood too seriously, she encourages moms to understand that parenting should be fun — after all, it's a relationship, not a job.
With a lively and often irreverent sense of humor, Spencer uses anecdotes from her own family dynamics to prove her point. As the mother of four young children, ages 7, 10, 12 and 14, she has ample experience with just about every parenting issue under the sun. In each situation, she emerges as relaxed, but not careless, tempering her instincts with good old-fashioned common sense. She contends that this easy-going parenting style makes for healthier, happier and more self-confident children.
Thanks to all those hours interviewing parenting experts, Spencer possesses an informed perspective that lends credibility. Before you know it, the Momfidence of Woman's Day fame has become a bestselling book and blog, serving up large doses of Spencer's refreshing, down-to-earth wisdom.
These are some of my favorites:
Momfidence is . . . using "perfect" only to describe such wonders as a ripe peach, a cloudless day at the beach, or a husband who does diapers and dinner. Its use in describing children is limited to how they look and how they hug, which are always perfect. . . . It has no application whatsoever in describing motherhood.
Momfidence is Dr. Spock's famous opener, "Trust yourself. You know more than you think you do" But it's also just skimming — or skipping — the 647 pages that follow.
Momfidence is raising your child freehand, rather than a paint-by-numbers kit. To paraphrase Lucy van Pelt of Peanuts: The expert is Within.
Momfidence is sticking to cute cotton pj's not only because the flame-retardant kind is stiff and scratchy, but because you feel perfectly confident that your little ones will not smoke in bed.
Momfidence is venting about how "doing it all" is one of the dopier cliché goals leftover from the 1980s. Doing the best you can while trying to do as much as you really truly need to is the best anybody can hope for.
Momfidence is letting your family plans dictate how many practices and games your child makes it to, not the other way around. A family is a team, too.
Momfidence is remembering that kids who are disciplined feel safe and loved — a maxim so true I cannot crack a joke about it.
Examples of Momfidence go on and on, infusing each parenting challenge with Spencer's refreshing take on motherhood. Her goal is always the same — creating a home environment designed to give children an advantage in life. It's no secret that Spencer's parenting style favors guidance and support over dominance and control. Her message is clear: A relaxed, comfortable home breeds confident, independent, creative and sociable children. So when things go awry . . . Resist the urge to panic! Stop and tune in. Listen to your kids. Worry less and wing it more!
On the subject of balancing work and parenting, Spencer acknowledges candidly that a perfect solution doesn't exist. She's worked full time outside the home, she's been a full time stay-at-home mom, and she's currently working full time inside the home. None of these three scenarios has been without problems, but she's always found a balance by refusing to expect perfection and maintaining her sense of humor.
Spencer believes achieving the balance is a personal challenge for every mother and the balance often tips in one direction or the other during different stages of a woman's family life and career. In finding this balance, the goal is a comfort level that enables relaxed and confident parenting. Not surprisingly, her advice is simple and old-fashioned: Trust your instincts about what is best for your family.
Thankfully, businesses are beginning to help their employees. The workplace is changing in exciting ways. Flex-time, telecommuting, job sharing and other work/life initiatives all make it easier for women to find their own Momfidence.
To hear more from Paula Spencer, plan to attend Charlotte Parent's Moms@Work Luncheon on Monday, Sept. 17. Copies of her book will be available for purchase and signing.