MOM WE LOVE: Shannon Spake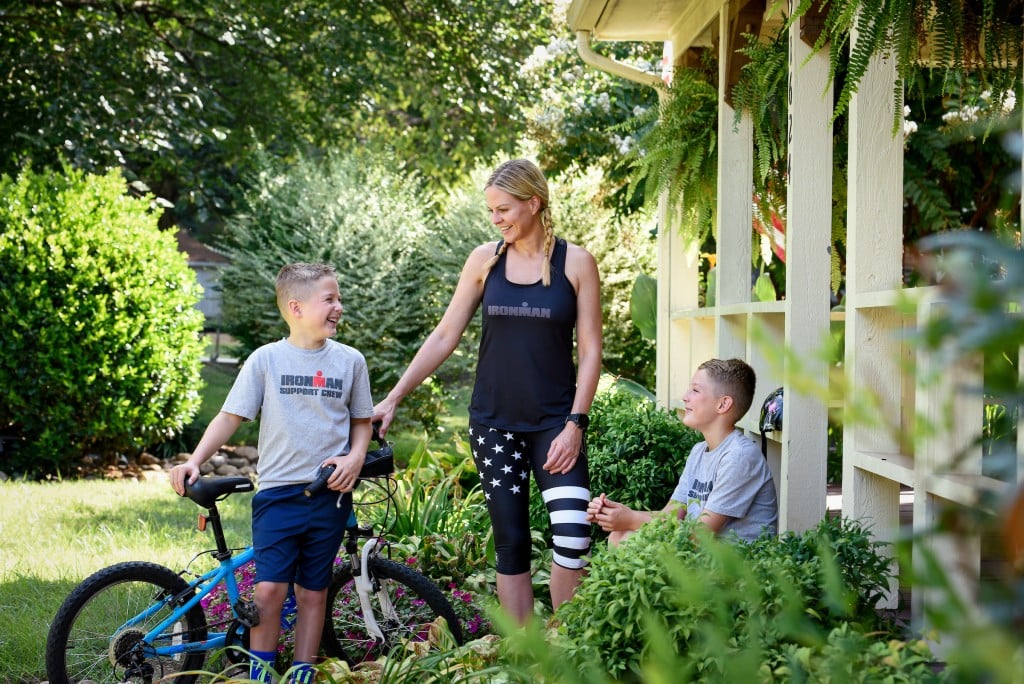 Between hosting NASCAR race coverage for Fox Sports, anchoring the daily NASCAR show RACE HUB for FSI, and interviewing NFL players for FOX on Sunday afternoons, Shannon Spake knows how to juggle. She and her husband Jerry McSorley are parents of 11-year-old twin boys, Liam and Brady, and oh yeah, she's also a triathlete. Spake has competed in five half-Ironmans and is training for her first full Ironman in October in Kona, Hawaii. In her, ahem, "spare time," she fundraises for the Ironman Foundation.
Spake travels 17 weeks a year for her role as a FOX NFL sideline reporter, but working out of Fox Sports' virtual studio in Charlotte has allowed her to be close to her Lake Norman home during the past three NASCAR seasons. Charlotte Parent caught up with this hard-charging supermom to talk about motherhood, training, traveling, and how she makes it all work.
Q: How do you balance your schedule and make sure you're still present with your boys?
A: You're constantly checking yourself because you have mommy guilt regardless. I literally drop my kids off at school and I'm like, "Oh, I wish I could be with them. Am I spending enough time with them? Should I pick them up early?" I wake them up every morning, get them breakfast, and then after school I'm taking them to after-school activities so we're spending 45 minutes to an hour in the car. I make sure that we take vacations as a family. My husband and I probably should go on dates more often but we really enjoy spending time as a family.
Q: How do you stay connected with what's going on at home when you're traveling?
A: You're booking playdates and doctor's appointments and summer camps and ordering lunches for school. I make sure I'm the primary caregiver, regardless of what I'm doing on the road. I work smarter now as I've gotten older. I make sure that when I do go on the road, all of my time is consumed with what I'm working on that weekend, so I can spend more time with my kids when I'm home.
Q: How do Liam and Brady get along?
A: They're best friends. They'll be aggravated and annoyed with each other and five minutes later they're totally BFF and inseparable. We've had them in different classes from the very beginning. We've never dressed them alike. We've really tried to create individual identities for both of them.
Q: Personality-wise, how are they different?
A: They're complete opposite kids. One is a lot like me. He's aggressive, Type A, he will wear you out. My parents (used to) say if I ever got kidnapped, they'd return me. I never really realized what that meant until I had my son, Liam. You don't want to discourage his vocalness, but at the same time you're like 'Buddy, you need to give me five seconds.' My other son is as chill as they come. They're really different, but they're special. But what I love is they know who they are. I feel like when I was their age, and maybe that's because I'm a girl, I always was trying to be what I thought other people wanted me to be. I feel like my kids have a great grasp on who they are.
Q: What do they think of your job?
A: It's just what mommy does. I had a small part in the movie Cars 3. They were in first grade when that came out and it was the coolest, right? But it's what mommy does. I'll hear people tell me, "Oh they're always talking about you." But they don't do that in my space. They think it's cool that they get to meet Joey Logano, who's their favorite racecar driver and go to some really cool events.
Q: There's got to be something that gives.
A: I don't cook. My husband cooks, so I'm very lucky about that. I don't have a messy house. That's probably the one thing I'm going to mess my kids up. They're going to be like, "My mother was always vacuuming." I have signs around the house right now because we're trying to teach them to clean up after themselves. I swear they leave dishes on the table and juice boxes in the living room, so I have all these signs that say "Did you clean up your mess?" We told them "From now on if you leave something out, you're going up to your room to read for 20 minutes, no matter what you're doing."
Q: Tell me about training for Ironman.
A: It's what fills my bucket. I was able to raise enough money fundraising for the Ironman Foundation—I do a fundraiser every year—so I got a bid to Kona, which is the world championships. This will be my first full Ironman. I trained for one in 2017 and it actually got cancelled a couple weeks before the event because of Hurricane Michael. I'm not in love with the training for the full one because it's a lot. It's seven to eight hours twice a week because you have a long bike ride and a long run, and that's a lot. I know what the next couple months are going to be, but I do have this goal of wanting to finish one full Ironman. I feel like the half Ironmans are a little more manageable.
Q: What's a piece of parenting advice you can share with Charlotte parents?
A: I tell young women, especially women who are in this industry and have children, it's OK. It's OK to be scared. It's OK to be sad. It OK to feel like you're messing up. It's OK to say no. It's just OK. I feel like as mommies we're constantly trying to make everything right and make everything perfect and sometimes it's not going to be, and that's OK.
CARROLL WALTON was a longtime sportswriter for the Atlanta Journal-Constitution and co-authored Ballplayer, the Chipper Jones biography, in 2017. Today she lives in Charlotte with her husband and three sons and continues to freelance for several media outlets.