Meet the Family Behind Strudel Shop
'We wanted to bring something that people aren't used to having'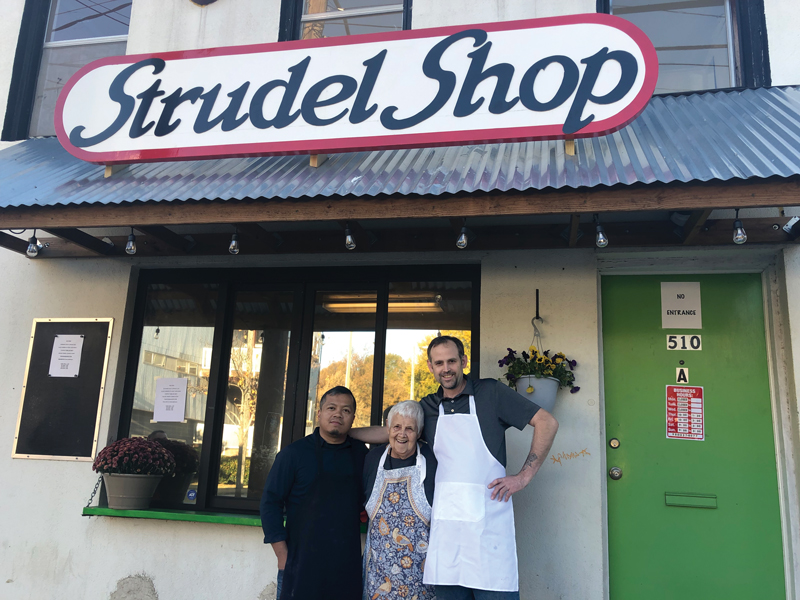 In the Strudel Shop's kitchen, Kevin Kelly stretches a sheet of dough over a stainless steel counter and shakes it in a motion that resembles ocean waves. Soon the dough will make up the crust for an apple strudel, which he'll sell from a sliding window on 15th Street in Optimist Park. But for now, Kevin needs a few extra hands to finish the job.
"Grab that corner," he tells Dee Huang, co-owner of The Strudel Shop and Kevin's childhood best friend. Dee chuckles and responds, "Yes, chef!" Kevin directs his grandmother Ginger to another corner and me to the last corner. Together we pinch and tug on the flour-covered dough and drape it over the edges of the table until it's so thin, it looks like tablecloth.
I planned to interview Kevin and Dee about their new business for a half-hour or so on this November afternoon. But Kevin wanted his grandmother, who has always been a big supporter of his pastry career, to be there too—and she needed a ride from Kevin's mom, which meant Kevin's dad and stepmom had to come as well. Tack on a couple of friends, and the Strudel Shop's tiny kitchen was at capacity. But two hours in, the room is still full of smiles.
As 86-year-old Ginger helps with the dough, she shares stories of a teenaged Kevin baking for holidays and special events—she even brought a couple of photo albums to show me. In one picture, taken in the early 2000s, Kevin and Ginger sit next to a display of Christmas cookies, one of many treats Kevin baked for a Christmas party for Ginger's choir group. "He baked every bit of that in one day," Ginger says, looking up at Kevin and beaming. "I want to cry thinking about it." In another photo, Kevin studies a sheet of dough as if he's inspecting it with a magnifying glass.
Kevin is just as serious about strudel today as a new business owner in Area 15, a small business incubator just north of uptown. The Strudel Shop opened in early November and offers a base menu of four slices of strudel for $6 each: cinnamon apple (with house-made rum raisin ice cream); berry cream cheese; ham, egg, and cheese; and tzatziki spinach. Dee and Kevin plan to add specials to the menu soon—maybe one with Asian influence to represent Dee'sCambodian heritage.
Kevin's 7-year-old son Liam's favorite is the berry and cream cheese strudel, which is no surprise as it's the sweetest strudel on the menu.
I notice that no one in the packed kitchen has a German or Austrian accent, so I ask why they chose to focus on strudel. Kevin cracks a smile, "This is redneck strudel."
Jokes aside, Kevin and Dee say they noticed a gap in the pastry offerings in Charlotte. There's French bakeries and Mexican ice cream parlors, but no brick-and-mortar shops to purchase strudel. "We wanted to bring something that people aren't used to having," Kevin says. "Americans don't know strudel."
Dee and Kevin chose Optimist Park to open the Strudel Shop because of their own local roots. Both grew up in Charlotte, within a few miles of the shop—Kevin in NoDa, and Dee in Belmont. They met as students at Irwin Avenue Elementary School (now Irwin Academic Center) and have remained friends since. Kevin even baked Dee's wedding cake 15 years ago. "I know Kevin's skill, so why wouldn't I give this a chance?" Dee says.
Kevin has a culinary degree from Central Piedmont Community College, and worked in kitchens throughout the city including Bistro la Bon, 5Church, and the now-closed Kelly's, which his late uncle John Kelly co-owned. He's also an acupuncturist and owner of Rising Sun Acupuncture. Dee is a supervisor at the Charlotte-based manufacturer APLIX.
The Strudel Shop is open from Thursday to Sunday, but they hope to extend their hours eventually. When asked how he balances it all—fatherhood, small business ownership (times two)—Kevin jokes, "How does Gordon Ramsey juggle 2,030 restaurants?" (The number is more like 35, but his point stands.)
The Strudel Shop also sells whole strudel logs for $30 so you can share the "magical" strudel, as Ginger calls it, with your own grandma … and mom, dad, and stepmom … and kids and friends, too.