Medicine Cabinet Checklist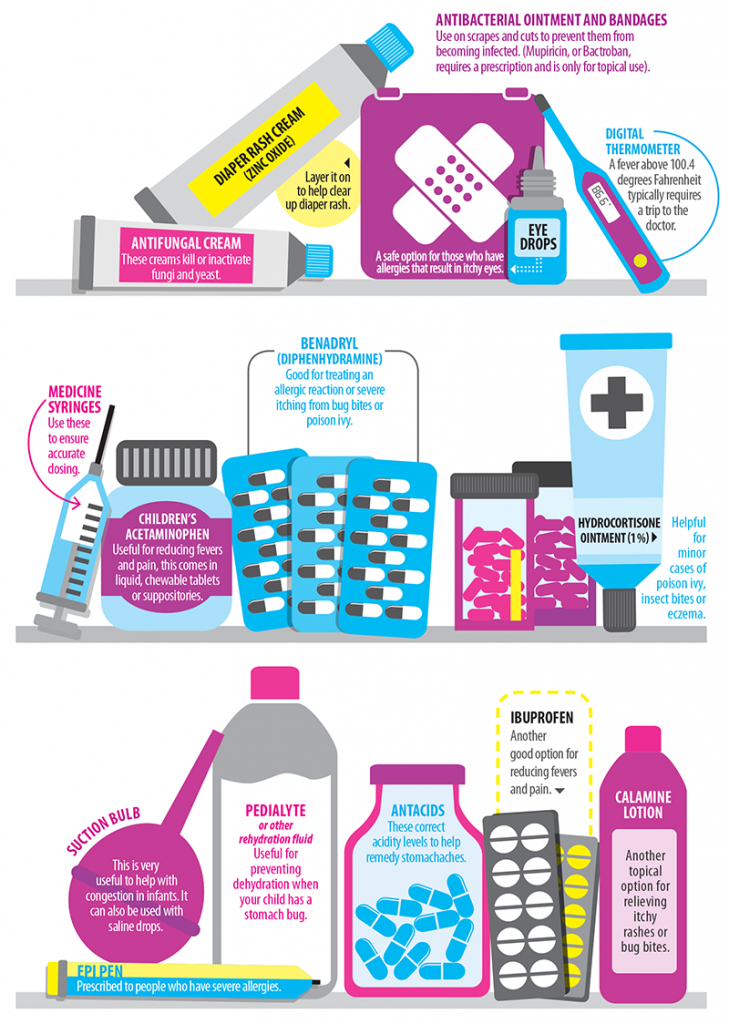 The start of a new year is a great time to take inventory of your medicine cabinet so you can make sure you have the most necessary and useful items on hand.
Here is an infographic of the medicine cabinet items you should have in your home, recommended by Dr. Suresh Nagappan, a pediatrician with Cone Health Medical Group in
Greensboro; Dr. Paul Smolen of Providence Pediatrics in Charlotte; and Dave Smithwick, a licensed registered pharmacist and owner of Southern Village Pharmacy in Chapel Hill.
6 Items Not to Keep in Your Medicine Cabinet:
1. Cough medicine with dextromethorphan – Not shown to work in kids (especially under age 6); has the potential for serious side effects.
2. Decongestants – Not recommended by the Food and Drug Administration for children under age 6.
3. Aspirin – Found to sometimes cause a serious disease called Reye syndrome. Use acetaminophen or ibuprofen instead.
4. Anti-diarrheal medicines – Using these may prolong intestinal infections in children.
5. Gas-relief drops – These are harmless but don't always work.
6. Hydrogen peroxide – Not recommended for cleansing cuts, since it may cause tissue damage. Use soap and water instead.