Medical Must-Haves for Baby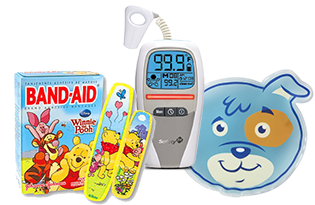 As a mom-to-be you likely will be showered with adorable onesies, but be sure these items are in your medicine cabinet for baby – who will be crawling, walking and running before you know it.
Humidifier
When your child gets a cough or croup, adding moisture to the air can help. Humidifiers are also helpful during winter months when heated air reduces humidity levels throughout the house, making for uncomfortably dry throats and noses. Frog Prince, crane-usa.com, $45.99.

Thermometer
A temperature is a true sign when a baby is sick, and a digital rectal thermometer provides the most accurate reading. A wide variety of rectal thermometers are available ranging in price from $5-$20. Ear or temporal-scan thermometers may be preferred for toddlers, but know they are often off by a few degrees. Safety1st ProGrade Complete Family Thermometer, safety1st.com, $44.99.

Nasal Aspirator
Before they can blow their own noses, a nasal aspirator is key to helping babies breathe – and feel – better when they are stuffed up. A bulb syringe is the most commonly used, but there are battery-operated versions and even some that work like a straw without actually getting the mucus in your mouth. Consider keeping some saline drops nearby too to help loosen mucus. Nose Frida Snot Sucker, fridababy.com, $15.

Cold Packs
In no time, infants are crawling, then walking and running. Inevitably new walkers take a tumble or two. Be prepared with a couple reusable gel packs stowed away in the freezer. A cold gel pack minimizes swelling and is good relief after shots and on insect bites. Boo Boo Buddy, available at most retail stores, $5.

Adhesive Bandages
Keep a box of adhesive bandages in the cabinet for minor cuts and scrapes. Bandages with favorite characters always help toddlers feel better when they get a boo-boo.

Fever Reducer
When baby spikes a fever, you'll be glad you have acetaminophen or ibuprofen on hand. Be very careful to follow dosage instructions on the boxes for the age and weight of your child. It is not recommended to give acetaminophen to babies under 3 months without doctor's approval.

Mommy's Medicine Cabinet
For when you are on the go, Mommy's Medicine Cabinet is a stylish travel bag that comes stocked with all of the nonprescription medications and first aid products. Available in newborn, toddler, preschool or build your own. $45-$100, mommysmedicinecabinet.com.