Making It a Kid-Friendly Divorce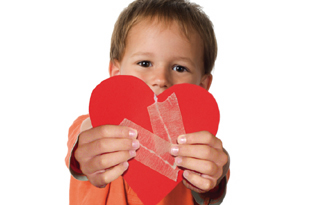 Divorce rates climb higher and higher, and, unfortunately, children are frequently caught in the middle of this heart-wrenching legal process. In the United States today, nearly half of all children will experience their parents' divorce. How can we help them feel empowered, loved and blameless? How can we let our children know they are, and always will be, the same normal and valuable people they were before the separation of their parents?
To help uncover some answers, I spoke with several adults who experienced divorce in their families as children, asking what their parents did "right." Here are some of their responses.
Christine McGrath, 30, of Charlotte, was very young at the time of her parents' separation. "My sister and I were 9 and 6, respectively, when our parents divorced," said McGrath. "One thing that helped shift the focus of attention away from my parents and back onto us was the introduction of our new pets. On the day the actual move from the house occurred, my grandma took my sister and me to the pet store to pick out a guinea pig each. We selected their cages and their supplies, and we stayed occupied for a long time with the job of choosing names. The excitement associated with our new guinea pigs truly helped to comfort and distract us on that day in particular. And, over time, our guinea pigs became unconditional confidants. I think this honestly helped to dull some of our pain, and we were certainly thankful to our parents for allowing us our critters."
Kevin Matthews, 37, of Chapel Hill, was 10-years-old when his parents separated. "As the only son of divorcing parents, I had enormous fear of abandonment and feelings of loneliness and insecurity with regard to what I perceived as a frightening turn of events. My dad used to travel frequently on business, and, even when my parents were together, his trips were unsettling for me. After their divorce, my parents made a calendar for me every month. It made clear and understandable the days I was to be with my mom, the nights and weekends I'd be having dinner and/or sleepovers with my dad, and the periods of time during which my dad would be traveling. When he was traveling, my special calendar included all the vital information about his trip – where he was going, where he'd be staying and how I could get in touch with him if I needed to talk. That action taken on the parts of my parents saved my sanity as a little kid. It helped me to feel important, informed, loved and wanted by my mom and dad, and it gave me peace of mind."
Sarah Jewett, 33, of Raleigh, was 16 when her parents divorced. "At the time, I loved participating in high school sports, and my mother was always on the sidelines cheering for me and my team. My dad, however, was a workaholic and didn't come to my games. After the divorce, not only did my mom continue to attend my sporting events with the same frequency that she did before, but my dad started accompanying me, too. His presence meant a great deal, as I recognized that he was telling me through his actions that my interests were important and that he wanted to spend time with me whenever possible."
Diana Meisburger, Ph.D., child psychologist with the University of North Carolina Department of Psychiatry, offers these tips to divorcing parents:
• Give your children a reason for the divorce. Coupled with the assurance that the situation is not a reflection on them, an explanation can make children less likely to blame themselves.
• Keep any conversation in front of and within earshot of the children as positive and neutral as possible. Even extremely young children absorb what their parents are discussing and how they're interacting with one another.
• If you're the out-of-home parent, send the children notes and cards and make plenty of telephone contact. Maintain a predictable schedule for phone calls, and when it's your appointed time, let nothing get in the way of making that call.
• If you're the parent who sees his or her children infrequently, send homemade video tapes or DVDs to keep them updated. Mom and Dad can record what she or he does at work, what happens on the weekends and what the kids' bedrooms at their home away from home looks like.
• As parents, be flexible and cooperative with one another and with the children. Let the kids be kids, and don't allow your issues to become theirs.
Divorce is never uneventful. And with children involved, it's a parental obligation to protect them from adult concerns and let them continue living their lives with as little disruption as possible. The way in which we, as parents, handle a divorce will have a profound effect on the way our children may handle similar circumstances later in life. And it will certainly give us comfort and peace of mind to know that we've done all that we can to put our children first.
Beth Brickner is a freelance writer who lives in Chapel Hill with her husband and their three children. She has degrees in both English and education and is currently a stay-at-home mom.