Making a CSA Share Work for a Small Family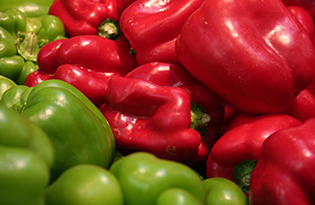 If you're the type to spend your Saturdays at your local farmer's market, you've probably at least heard murmurings about community supported agriculture, or "CSA". CSA programs typically allow members to pay in advance for a share of the farm's crops, to be picked up or delivered in installments throughout the season.
Our household first joined a CSA in the spring of 2012 in an effort to add more locally grown produce to our diets. Because our family consists of just my husband, our young daughter and myself, I was a little concerned we might find ourselves overwhelmed by produce. I envisioned bushels of cabbage and kohlrabi languishing on the kitchen counter while we ate salads for breakfast, lunch and dinner in an effort to avoid food waste.
Happily, we loved our weekly CSA boxes and even signed up again in 2013. Over the past two seasons, we have learned a great deal about making their contents work for our small family. Hopefully these tips will help you do the same!
1. Choose the right CSA for you. Does the plan provide just veggies, or other foods as well? Is the produce organic? Are shares made available weekly or bi-weekly? How far away is the pick-up point? Does the pick up day and time work for you? Asking these types of questions will help you find the farm that best fits your family's tastes and lifestyle.
2. Consider sharing a share. For a small family, it may be difficult to use a full-sized CSA share each week. We split the cost and contents of our first year's share with a family friend, leaving us of each with just the right amount of produce for several amazing veggie-based meals. Many CSAs also offer singles and small families the option of purchasing a smaller share.
3. Develop a flexible meal plan. Depending on your personal schedule, you may need to make your weekly grocery store visit before knowing the contents of your next CSA share. You can work around this issue by learning a few basic cooking techniques that allow for flexibility of ingredients. Shish-ka-bobs, stir-fries, pasta dishes and salads are excellent ways to incorporate a wide variety of produce. Just buy any necessary meats, sauces, grains or spices ahead of time, then throw in whichever veggies seem like a good fit for your dish.
4. Promptly address food storage needs. Form a plan of attack as soon as you receive your share. Do a little research on appropriate storage methods for various types of produce, and prioritize vegetables with shorter shelf lives to ensure they are used while still fresh. It may also be helpful to do some washing and cutting right away to save time later in the week. For food safety questions, foodsafety.gov is a great place to start.
5. When you can't use it, freeze it so you don't lose it. If you know you won't be able to make it through a particular week's share before it spoils, consider turning to your freezer for help. When freezing fruit, I typically use cookie sheets to do an initial freeze of individual pieces before combining them in a freezer bag or container labeled with the date. For many vegetables, a quick blanch prior to freezing is recommended. The National Center for Home Food Preservation provides detailed instructions for freezing just about anything you can imagine at nchfp.uga.edu.
6. Ask questions. The people you see during pick-up or delivery of your share are likely to be directly involved with the growing process. Don't be shy about asking them for storage suggestions, recipe ideas or the name of an unfamiliar fruit or vegetable. You may even find a new favorite! I had never cooked Swiss chard before we joined our CSA, and it now makes a regular appearance on our menu plan even during the CSA's off-season.
7. Resist produce temptation elsewhere. As delicious as the tri-colored tomatoes at your local farmer's market may look, try to refrain from buying vegetables from other sources at least until you see what's in your weekly box. After all, your CSA share was most likely paid for in advance, and it would be a shame to let all that deliciousness go to waste. If you just can't resist those gigantic zucchini at the supermarket, well, there's always freezing!
We have found our CSA share to be an excellent investment in both our family's health and our local community. With a little advance research and an adventurous culinary spirit, your family can also have a great experience.
Michelle Shirk is an attorney, freelance writer and proud mother of one.
Read More: 


View all Family Wellness articles