Low-Key Living Awaits on Hilton Head Island
Wide, flat beaches and miles of bike paths are draws for a trip to Hilton Head Island.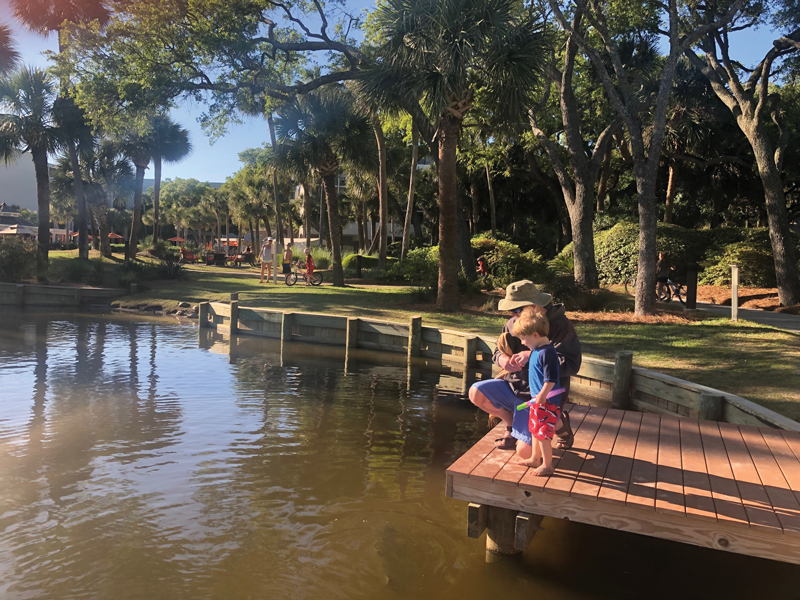 Hilton Head Island, located four hours from Charlotte in the South Carolina lowcountry, offers families opportunities to relax seaside along with fun excursions to keep all ages busy on and off the sand. Wide, flat swaths of sand that meet gentle waves and tide pools make it the perfect family beach for relaxing, running, playing games, flying kites and swimming.
Resorts are plentiful on the island, as are house and condo rentals, tucked under oaks dripping in Spanish moss. The Sonesta Resort Hilton Head Island was ideal for my family of four. Located in Shipyard Plantation, its oceanfront location makes it easy to dash from the well-appointed room to the beach and then back for a quick dip in the zero-entry pool — a great thing for parents with preschoolers. On cool days the hot tub, which is located by a second smaller pool, is inviting as well.
The resort's lush layout made for nice early-morning walks to the beach with my 3-year-old where we watched yoga classes hosted by the resort at no cost to guests. The leisure activity rentals made it convenient to keep my 9-year-old son happy. Bicycles can be rented to ride on the wide, flat beaches or more than 60 miles of paved bike trails winding throughout the island.
On the walk to the beach, kids love stopping at Turtle Beach at Sonesta to see turtles sunning. Join the turtle feeding at Turtle Beach at 12:30 p.m. each day. Children ages 3-5 can enjoy half-day programs or ages 6-12 can enjoy full- or half-day activities at the Just Us Kids Club, just be sure to book 24 hours or more in advance.
While the kids play, the Arum Spa at Sonesta is open for mom and dad. Services include signature massages, facials, body treatments and nail services. My 50-minute spa was topped off with a foot soak and glass of champagne.
Poolside food and beverage service from Sweet Cane Bar and Grill allows everyone in the family to stay suited up for lunch without having to find shoes or shirts, and happy hour from 5-7 p.m. is a nice way to wind down before dinner.
No need to leave for dinner. Dine at Heyward's Restaurant or Seacrest Terrace and Patio. During summer months, there is a Friday Night Seafood Buffet from 5:30-9 p.m. Check out the kids menu at Seacrest Terrace and Patio that serves kid-friendly meals. Heyward's Restaurant also offers an all-you can eat breakfast buffet, waffle bar and made-to-order omelets. If you have scheduled early excursions, get a quick coffee and a chocolate croissant, yogurt or cereal at Bayley's Bar and Terrace adjacent to the lobby.
Island Adventures
A visit to Sea Pines Resort Plantation gets you access to the Harbour Town Lighthouse and Lawton Stables. There is a per car entry fee of $8 (cash only). Climb 100 steps to the top of the Harbour Town Lighthouse for views across the coastal plains. Play at the nature-inspired Gregg Russell Playground, which features a huge tree house around a live oak and plenty of play areas. The more adventurous can go parasailing or ride a Banana Boat in Calibogue Sound by booking with H2O Sports.
Lawton Stables is a great stop for animal lovers. Spend a $1 on a cup of animal feed and enjoy a self-guided stroll through the small animal farm that houses cows, miniature donkeys, pot-bellied pigs, alpaca llamas, goats and chickens. Hand-lead pony rides are available for ages 7 and younger on a first-come, first-served basis from 9 a.m. to 4 p.m. for $15. Guided, one-hour Western-style horseback trail rides suitable for ages 8 and older also are available with prices varying by season. Reservations are required by phone or at lawtonstables.com.
Coligny Plaza is outfitted with an array of retail boutiques, beach stores and eateries. For a quick lunch bite, Stu's Surfside Subs and Suds is a go-to for hoagies, hot dogs and sandwiches. Stroll through Coligny Plaza for ice cream, window shopping, and a visit to the pirate playground that has a small pirate ship for climbing and and imagination building. Stop by Coligny Beach Park, located at the end of Pope Avenue off Coligny Circle, to cool off in the splash pad or a stroll down the boardwalk to the beach.
While Hilton Head is known for its 18-hole golf courses, two mini-golf courses at Adventure Cove provide non-sandy entertainment. There's also an indoor arcade. Off-shore exploring on the Intracoastal Waterway in search of dolphins can be booked through various outfitters on the island.
Michele Huggins is the editor of Charlotte Parent magazine, who savors a good day at the beach with her boys.