Local Zipline Canopy Tours Soar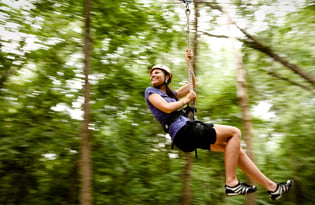 Canopy tours and ziplines are all the rage, and are an exhilarating adventure for thrill-seeking tweens and teens, as well as dads and moms. Two new canopy tours have opened nearby at Camp Canaan in Rock Hill, S.C., and the U.S. National Whitewater Center.
Canaan Zipline Canopy Tour offers a three-hour, high-flying experience through the trees on a network of cables and sky bridges that criss-cross the Catawba River. The motto is: "Don't Just Dream of Flying, Make it Your Favorite Pastime."
I recently ventured to Camp Canaan for some zipping around through the trees. Once outfitted with a harness, helmet and gloves, the group listened in about how to brake (gently patting your hand on the cable) and position ourselves while zipping from one platform to the next platform.
The tour starts atop a 70-foot tower and continues on a network of nine ziplines, three sky bridges and two nature trails. The half-inch zipline cable is the same used to stop fighter jets on Navy ships. A guide is stationed on each platform and clips and unclips participants from the zipline to a cable securely fastened around each tree while they wait to zip to the next platform.
The hardest part of the tour was stepping off of the first platform. I actually asked for a push, but was told there is a "no push policy." It's all about getting over fears and channeling that inner adventurer.
After stepping off the platform, I felt free as I glided across the Catawba River, but as I approached the landing pad, the theme song from "George of the Jungle," you know … "George, George, George of the Jungle – Watch out for that tree!" popped to mind.
Despite the instructions on how to brake, my pulsing adrenaline caused me to confuse hands, and instead of gently patting the cable, I was patting the pulley. It made for a fast landing, bruised knee and a laugh with the guide and others in the group. With each platform, taking the step off became easier and more exhilarating, and the views are awesome.
Overall, the experience was a fantastic way to de-stress from the workweek, and get back to nature without a long drive or a lot of effort. It's also a perfect team-building activity for youth groups, birthday parties, friends and families. If you are thinking of going as a family, know that participants must weigh at least 75 pounds (physics come into play here as anyone less than 75 pounds runs the risk of losing momentum while zipping from platforms and may get stuck mid line), no more than 275 pounds, and be able to walk at least a mile on uneven terrain.
The canopy tour at USNWC is a four-hour, guided experience through the trees along the Catawba River and portions of the Historic Tuckaseegee Ford and Trail. Participants travel through 14 different tree platforms on a series of zips, bridges, rappels and other high-adventure challenges.
The tour reaches heights in excess of 60 feet in the hardwood trees that cross a 90-foot-deep canyon before working its way through a wetlands delta and then proceeding along the banks of the Catawba River. Along the tour, guides highlight flora and animals unique to the environment, as well as the historical significance of the area.
Guests must be at least 10 years old, able to comfortably walk up to a mile on a trail, pull themselves along a cable while suspended (this is in case you get stuck mid zipline), and be able to slow themselves using a glove to create friction on a cable (see above mention about "George of the Jungle").
If You Go, You Need to Know:
Canaan Zipline Canopy Tour
3111 Sand Island Road, Rock Hill, S.C.
803-327-6932
www.CanaanZipline.com
Admission: Canopy Tour (3.5 hours): $75, adults; $70, children under 18. Bootleg Tour (1.5 hours, five ziplines): $50, adults; $45, children under 18.
Hours: Four trips each day, Friday-Sunday, 9 a.m., 10 a.m., 1 p.m. and 2 p.m. Reservations required.
U.S. National Whitewater Center Canopy Tour
5000 Whitewater Center Parkway
704-391-3900
www.usnwc.org/canopy-tour
Admission: $89 per person for the Canopy Tour Pass; $5 parking.
Hours: Four trips daily at 9:40 a.m., 10 a.m., 2:40 p.m. and 3 p.m. Reservations required.