Learning a Second Language in Charlotte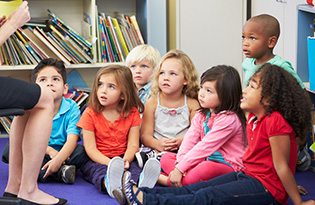 In 2001, a Gallup poll revealed that 25 percent of Americans can hold a conversation in a second language. That number has continued to rise, hovering around 30 percent in recent years. And as Americans have become more bilingual, they've seen the advantages of exposing children to bilingualism at an early age.
Several studies cite exposure to new cultures, communication with more people in the world, and generally becoming a better student as benefits to learning a second language. Craig Snyder, owner and president of The Language Academy of the Carolinas, points to how it can simply help hone a child's ability to learn.
"Over time, it helps them to develop a new way of thinking and communicating," says Snyder. He adds that starting early helps "the brain operate between different words and sounds."
Though the academy helps professionals wanting to expand their business or prepare for a new location, it also invites children to enter group classes in two locations. As for the difficulty of learning a language, Snyder maintains that results can be found over time. "You really want to be thinking about the long term," Snyder says, likening the process to learning piano, with the process as a whole "rewarding."
PlaySpanish also believes in the fundamental shift in thinking that occurs when you learn a second language. The program, created in 1997, uses play-based curriculum and has connected thousands of kids to both Spanish language and Spanish culture. For Ricardo Mata, chief executive officer, the question of the main benefits of a child learning a second language could be answered by certain adults.
"Probably the best answer to that question would come from a bilingual parent," says Mata. "That's one of the points we try to get across to the community. Unless you are bilingual, and understand the benefits of bilingualism, it's hard to understand how your life can change with a second language."
Ricardo and his wife, Carmela Tondo-Mata, started the program together, providing a venue for children and teenagers for 16 years. There are positives of learning a second language that have been well documented through the years, but Mata maintains that the true benefit comes from within.
"A lot of people talk about the global economy, and the statistics about how you can make 15 to 20 percent more by learning a second language," he says. "That's all cool, but the real benefit comes from deeper satisfaction that you can achieve,"
A 2009 study determined that 7 years old is the best age to learn a second language. However, that idea has been debated through the years, with others claiming that adults are easily capable as kids, except in the area of pronunciation. Programs like PlaySpanish aren't dedicated to a single age.
"We start with kids as young as 6 months," Mata says. "We go as high as high school students who need help with individual tutoring. The bulk of our kids are in preschool and elementary school age."
Snyder says Collinswood Language Academy is one example of how parents and educators are seeing the need for these services.
"There's such a demand for these programs," says Snyder. "Parents recognize what an asset it is."
Andy Smith is a freelance writer based in Charlotte.