King Tut at the Atlanta Civic Center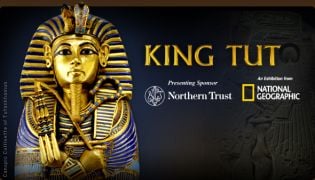 Tutankhamun The Golden King and The Great Pharaohs is a new exhibition that will remain in Atlanta through May 2009. If you can't squeeze in a trip to Atlanta before New Year's, be sure to plan a family visit before the traveling exhibition leaves for Indianapolis in June.
Adults and children will be fascinated by the 50 objects featured from the tomb of Tutankhamun, which was discovered in 1922 by a British archaeologist. The exhibition also features artifacts from other significant rulers of ancient Egypt, such as Khefren, whose great pyramid is the only remaining structure of the Seven Wonders of the Ancient World, and Hatshepsut, the queen who became king.
Due to the popularity of the exhibition, purchase tickets in advance at www.ticketmaster.com. Tickets to Tutankhamun are $32.50 for adults, $29.50 for college students and seniors with an ID, and $16.50 for children ages 6-17. A Family Four Pack is available for $21.50 per person. Admission is by timed-entry ticket only, which specifies a 30-minute window for entering the exhibition.
Want To Go?
Atlanta Civic Center, 395 Piedmont Ave. N.E. — www.kingtut.org.
Sharen Swintek is a Huntersville mom and former Charlotte Parent staffer.