Itsy Bitsy Pieces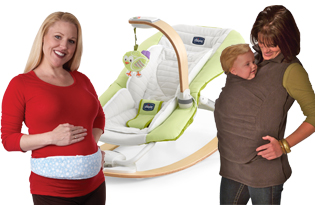 Gunapod
This soft, plush blanket is wearable and extremely versatile with three zippers. It can be unzipped from the bottom to easily change a diaper or let feet move freely. The top unsnaps, and the whole front can be removed to allow little ones to stay asleep while they're being zipped up or unzipped. It's ideal for car or stroller use.
$29.50. www.gunamuna.com.
Lullabelly
Pregnant moms no longer have to stretch bulky headphones across their bellies to expose their babies to music in the womb. Lullabelly is an adjustable, plush prenatal music belt that plugs into any portable music player and includes earphones so parents can listen along. Safe sound level technology keeps the volume level similar to a mother and father speaking or singing aloud to their baby in the womb.
$55. www.lullabelly.com.
Peekaru Original
Moms and dads can now keep babies warm and snug when carrying them in baby carriers. This lightweight fleece vest comes in multiple sizes and fits over a parent and a baby carrier such as a sling, mai-tai, wrap or BabyBjorn. It comes with instructions on how to put it on and slip the baby's head through the opening whether you're carrying the baby on the front or back.
$79.95. www.togetherbe.com.
Snugli
With the new Snugli, parents can carry their baby in style. This baby carrier comes in 16 different designer patterns – such as Love Tattoo, Mini-Skulls and Fluer de Lis – and in four different styles. All four styles have a one-handed buckle to make it easier to get on and off. The Snugli also comes with comfortable padded shoulder straps and is made of breathable fabrics. A baby can face either in or out with a Front Snugli, or with a Front and Back Snugli, parents can transport their baby on their backs.
$39.99-$79.99. www.snugli.com.