Is Work Good for Your Health?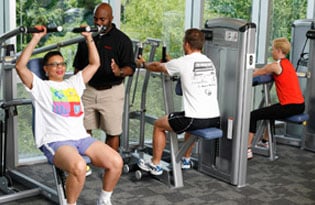 Employers throughout North Carolina are making health and wellness a priority. Workers who are both physically and mentally fit are more productive, and everyone knows less stress leads to higher job satisfaction and better performance.
Here are ways some of Carolina Parenting's N.C. Family-Friendly 50 firms are promoting healthy lifestyles.
Covering the Basics
In today's environment of rising health-care costs, nobody can take health-insurance coverage for granted. Many companies are skimping on health-care coverage for employees and their families, but some are shouldering the costs of nearly all health-insurance expenses for employers and their families, and that's worth applauding.
Capitol Broadcasting Co. (Raleigh) – Pays 100 percent of employees' health insurance and 70 percent for family members.
WakeMed Health & Hospitals (Raleigh) – Pays nearly 90 percent for employees and nearly 70 percent for families.
American Express (Greensboro) – Pays 80 percent of employees' health insurance premiums and 70 percent for family members.
Creative Health-Care Benefits
Consider these companies that are thinking outside the box with health-care coverage.
Bank of America (Charlotte) – As part of a significant health benefits redesign introduced in 2009, BofA offers associates earning less than $100,000 a year bank-funded Health Care Accounts, providing $600-$1,200 per year to help them pay for eligible medical expenses (co-pays, prescriptions, etc.).
SAS (Cary) – At no cost to employees and their covered dependents, SAS offers an onsite Health Care Center, boasting a 57-member staff, including trained lactation educators, family nurse practitioners, physicians, registered dieticians, medical laboratory technologists, physical therapists and a psychologist. This center averages nearly 4,000 visits a month.
Excited to Exercise
Many companies, such as SAS, WakeMed and the U.S. Environmental Protection Agency in Research Triangle Park, have workout facilities on site. This certainly saves employees valuable travel time between the office and the gym, affording them extra time to spend with their families. Here are other programs:
TIAA-CREF (Charlotte) – TIAA-CREF sponsors programs such as the "Get Fit Challenge," designed to help employees learn the fundamentals of total health. Teams are formed, and prizes are awarded to those who score the most points. This complements the company's $650 per year reimbursement for gym memberships and its comprehensive corporate athletic program.
Capitol Broadcasting Co. – CBC was the first company in North Carolina to be designated a "Be Active" workplace. Through the program, employees earn points for physical activity. The program also includes a health club reimbursement and gym membership discounts.
Healthy Eating Made Simple
Cooking and preparing healthy meals may be a challenge for many working families, except at these companies.
American Express – The financial services firm provides take-home food items in its onsite cafeteria, saving employees time and money. American Express also has registered dieticians on its campus to help employees learn how to make well-balanced meals.
Providence Day School (Charlotte) – This private school provides payment for Weight Watchers, once the employee has reached a certain goal. The employee pays for the program up front, but, ultimately, can be reimbursed up to 200 percent. This program promotes a healthy lifestyle for staff, who can then be role models for their family members.
Comprehensive Wellness Programs
Clearly, a number of companies are taking steps to emphasize health and wellness for their employees and their families. A few companies stand out for having incredibly comprehensive wellness programs:
Duke Energy (Charlotte) – The power company's wellness program includes health fairs, guest speakers, fitness centers, a nurse's phone line and smoking cessation program, just to name a few. In addition, employees can earn up to $250 in a company healthcare spending account.
Cisco (Research Triangle Park) – Cisco uses an internal Web site, "HealthConnections," to serve as the hub of its wellness offerings. The program includes a Personal Health Assessment, free onsite health screenings, health coaching and Cisco Cafes to help employees make healthy food choices. Cisco's "Healthy Living Program" is a six-week online program designed to help employees improve their diet and exercise routines, and assist them in managing chronic health conditions. In 2008, more than 11,000 Cisco employees enrolled in a healthy living program, and 97 percent of employees who have completed the program indicate they achieved their healthy living goals. One of the most technologically advanced elements of the program is "Cisco HealthPresence," a virtual clinic in which TelePresence is coupled with biometric equipment to provide employees with doctors' visits anywhere in the world.
Wii for Wellness and More
A lot of companies are promoting healthy lifestyles in very creative ways.
Ameritrust Mortgage (Charlotte) – Beyond heading to the water cooler, employees at this company can relieve stress and stretch their legs using with Wii Sport in the company break room.
Blue Cross Blue Shield of North Carolina (Chapel Hill) – Neck tension? Knots between the shoulder blades? BCBSNC provides onsite table and chair massages.
Duke University and Health System (Durham) – The company's "Live for Life" program includes a mobile farmers market, where employees can snatch up some fresh veggies before heading home.
Promoting healthy lifestyles is a win-win situation for employers and employees. Workers who take fewer sick days are more productive, which translates directly to positive company morale and increased revenue. As for employees, diet, exercise and reduced stress equate to personal satisfaction.
Holly Rice is the director of the MBA for Executives Evening Program with UNC's Kenan-Flagler Business School, and Christine Ferrell is the marketing and business development director.