Irish Dance Draw for Local Kids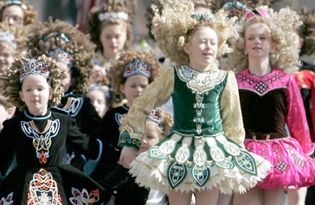 Like many Irish dancers, Jennie Slater first asked her parents for dance lessons after seeing the cultural phenomenon "Riverdance" on television when she was only 5. Now 12, the sixth-grader from Concord spends the majority of her out-of-school time perfecting intricate steps and artful leaps for competition and performance.
"When I was younger, I really loved learning fun steps and meeting new friends," says Jennie. "Now I get to travel, see new things and challenge myself."
Later this month, April 17-24, more than 30 Charlotte-area dancers will compete in the World Championships in Dublin. More than 600 children take Irish dance lessons at one of two Charlotte-based schools — Rince na h'Eireann (pronounced Rinka-nah-erin) and Walsh Kelley — but not all the dancers live in Charlotte. Sandra Connick, the founder and director of Rince na h'Eireann, marvels at the growth of Irish dance in the Carolinas.
"I began my school in Charlotte with literally one family," says Connick. "Today, we're teaching more than 400 children in studios in Huntersville, Winston-Salem, Raleigh, Greenville and Columbia."
The Walsh Kelley School also teaches in Greensboro and Wilmington.
Celtic Culture and Costumes
The roots of Irish dance can be traced back to the early 18th century, when steps were taught by wandering dance masters who traveled from town to town teaching dance to peasants. Their young pupils performed on table tops and doors that had been lifted off of the hinges to be used as dance floors. Some speculate the tiny space provided to solo dancers is the reason the arms were held rigidly at the dancers' sides — an Irish dance tradition still intriguing audiences today.
It wasn't until the mid 1990s, when electrifying performances, like "Riverdance" and "Lord of the Dance" brought this style of dancing to the world stage and sent families (Irish or not) streaming into dance studios across the United States to learn the fast-growing art form.
The physical challenge of Irish dance is what lures many children. Still, others participate to connect to their heritage and some are simply attracted to the rich pageantry of the costumes.
"Our teachers absolutely love dance and are passionate about sharing the Irish culture with the students," says Connick. "It really doesn't matter to us the reason for signing up. We will encourage their best and have fun."
Like the dance masters of the early days, Connick, a native of Ireland, stresses the importance of performing as a way to share Irish culture with others. She says that service through community performances is a big part of the school's mission.
"Our students dance in festivals and parades and perform for schools, retirement centers and civic groups," she says. "It's important they understand they must share their gifts and share what they've learned."
Lasses and Lassies Get Started
Both Rince na h'Eireann and Walsh Kelley teach children as young as 4. But beginners can start at any age — there is no "normal" timeline for skill progression, as it depends on age, talent, commitment to practice and interest.
Outside of the cost of a class, which ranges $35-$60 per month, Irish dance can be an investment of money and time as a child advances. Dresses become more expensive — although most families buy costumes used and sell them as a child grows — and families may choose to travel several times a year for competitions in and out of state.
However, beginners start simply with soft ghillies, similar to ballet slippers, before moving to the hard shoes most often associated with "Riverdance." In performances and competitions, beginner girls wear simple skirts and blouses, while boys wear slacks and vests. In fact, elaborate "solo" costumes are not allowed in competition for the first three levels. This allows families to explore Irish dance and assess their child's enthusiasm and ability before making any major investments.
Competitive Kicking and Spinning
Competition is a big part of the Irish dancing scene. Even in its earliest days, dance masters from different towns would challenge each other for bragging rights. Today, schools host competitions (called a "Feis") that may draw hundreds and or even thousands of competitors. The Walsh Kelly School hosts its feis in June, and Rince na h'Eireann's feis is in October annually.
There are six levels of Irish dance, from beginner to champion. Dancers advance in level based on their performance during competition. Each level increases in difficulty with dancers spinning and tapping faster and leaping and kicking higher — all while keeping their arms straight at their sides. Irish dance is performed as individual dances (solo), or in groups (called figures or "ceili"), providing dancers the opportunity to experience competition on their own and as a part of a team.
Most often, the dancers set their sights on the World Irish Dance Championships. This is the Olympics of Irish dance; Michael Flately, the creator of "Riverdance," was the first American to win at Worlds. The 2011 Championship is being held this month in Dublin; 32 dancers from the Charlotte-based schools qualified to compete on the world stage.
While competition is optional, and some students only attend classes for pure enjoyment, parents of competitive dancers believe the experience of competition is a key ingredient to their child's development. "I didn't like the idea of competition at first," says Angela Slater, Jennie's mom. "But now I know it has given her confidence I don't think she would have had if she weren't involved in the competition part of Irish dance."
Ballet, jazz and tap classes still reign as the most popular dance forms for children, but it's nice to know there's the option for something uniquely and culturally different. Irish dance is a perfect blend of strength, agility, grace and challenge — all of which suit many girls and boys just fine.
"I was never the tutu type," laughs Jennie. "I'm more power than grace. When I'm dancing, I feel like I'm flying."
Molly Thompson is the director of public relations for the YMCA of Greater Charlotte and the mother of two girls, Elly and Sarah, who love Irish dancing.